Susan Coolidge's
Clover and In the High Valley
part of

The "What Katy Did" Series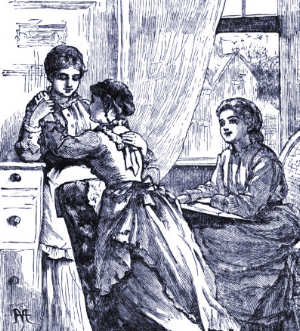 Some time ago I found these two out-of-print books as text files on the Web. They were clearly transferred from British texts, indicated by the spelling and punctuation. I had originally planned to link to them, but they disappeared. These were the final two books in the "Katy books"/Carr family sequence, following What Katy Did, What Katy Did at School and What Katy Did Next. I had a copy of Clover in a "Katy" anthology I found long ago, but had no idea there was a fifth book until I found In the High Valley on the long-vanished website.
I had fixed up the texts I found into readable format and had posted them here, since surviving copies of In the High Valley were selling at exorbitant prices online. However, all the books are now posted online on Google Books, so there is no need to keep my texts. The Google Book formats are scanned from original copies and contain the complete text—I found to my dismay that my copy of Clover, at least, had been edited!—and even illustrations, and are eminetnly readable. They are linked, in order of publication, below.
Sarah Chauncey Woolsey wrote five books and one short story about the Carr family, beginning with What Katy Did in 1872. The Carrs live in the Midwest. Father Dr. Philip Carr is a physician, and the children in order are Katherine (Katy), Clover, Elsie, Theodore (Dorry), Joanna (Johnnie), and Philip (Phil). Their mother died when Phil was a baby and they are cared for by their strict and humorless Aunt Elizabeth, known as Aunt Izzie. Katy is an active, creative, but heedless child who continually gets into "scrapes" and can be compared with Louisa May Alcott's Jo March. However, halfway through the book a tragedy happens that changes Katy's life.
¤ What Katy Did at Google Books
The first sequel finds Katy and Clover going to boarding school in the East, where they meet snooty Lilly Page, her annoying brother Clarence, and their social-climbing mother, as well as a beloved figure in later Katy stories, the mischievous Rosamund Redding, "Rose Red."
¤ What Katy Did at School (1873) at Google Books
The next book finds Katy going to Europe as a companion to widowed Polly Ashe and her daughter Amy.
¤ What Katy Did Next (1886), at Google Books
At the beginning of Clover, the narration makes a reference to Johnnie and a trip she took to someplace called "Inches Mill," told in a volume called Nine Little Goslings. Not properly a "Katy" novel, it was instead a collection of nine short stories, the first being a story about the Carr family. (This story is referenced again at the conclusion of In the High Valley.)
¤ Read "Curly Locks" (1875), the story of Johnnie's visit with "Mamma Marian" at Google Books
In the fourth book of the series, following Katy's wedding, the focus shifts to Clover and "little" Phil, now twelve. After Phil's serious illness during the winter, Dr. Carr sends him, with Clover to watch over him, to the mountains of Colorado. Clarence Page, now a rancher with an English partner, turns out to live nearby.
¤ Clover (1888) at Google Books
In the final book, two British siblings, Imogen and Lionel Young, come to live near Clover and Elsie and their husbands and children. Imogen has many misconceptions and prejudices about Americans in general and Clover in particular, and the story concerns her coming to terms with these feelings.
¤ In the High Valley (1890) at Google Books
A short biography of Woolsey/Coolidge here talks about who the Carr children are based on.