Think about it: both Robin Kane and Trixie Belden lucked out. Not to mention the infamous Nancy Drew!
All were middle class, yet Robin's family happened to be friends with the children of a movie producer, and the marvelously wealthy Wheelers moved into the Beldens' upstate New York neighborhood. This most importantly gave both Robin and Trixie access to horses, on which they seemed to have the most marvelous adventures. When they weren't galloping around the countryside, trouble seemed to find them.
Nancy Drew's dad, of course, was a prosperous lawyer. Nancy didn't have a horse, but she could ride, and she had even a more important mode of transportation, her own car. Combined with a remarkably indulgent housekeeper, some adventurous friends, and a nose for trouble, Nancy had some great adventures. Even Annette, in a series of five books for Whitman Publishing, had her own little car, "the Monster."
Donna Parker was more like most of us girls growing up in the 50s and 60s. She had no horses to gallop off on, her mother insisted she eat a healthy breakfast every morning, her little brother was a torment rather than cute like Bobby Belden, the biggest event in her life most of the time was facing a new schoolday. Her adventures—even though she managed on one occasion to accompany a friend on a chase after industrial spies—were decidedly of a tamer sort than Nancy Drew's or the Bob Whites of the Glen: who was living out in the old house in the woods? Why was her best friend Ricky suddenly distant to her? I'm sure some girls found Donna boring. She wasn't the impulsive sort, didn't run into crooks and thieves around every corner, did well in school and liked to go to nice parties of the sort parents approved of in those days, was mostly neat in her habits. Sometimes I found her too patient, too forbearing, too darn neat and so depressingly feminine.
On the other hand, most girls could sympathize with her: hadn't we all had a hard-to-please teacher like Miss Merwood, the persnickety cooking instructor? Hadn't we at one time or other overstepped our bounds and then wondered what to do? Or had a friend who changed and grew away from us? And sometimes even things we thought were only "grown up" problems intruded. When Trixie and Robin and Nancy finished their adventures, the terrors were over and everything went back to normal. But none of them ever had to face the repercussions Donna—or Ricky—did in A Spring to Remember.
- - - - - Who's Who - - - - -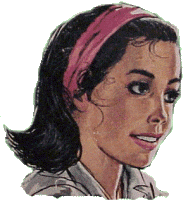 Donna Parker - Donna is just finishing eighth grade when the series opens. She has dark hair and her eyes are presumably brown; the color is never mentioned. Her age is not mentioned until On Her Own, when we found out she is fourteen (she is therefore thirteen when the series opens, since we are told in Special Agent that her birthday is celebrated in the fall; it is definitized as the last week of October in Takes A Giant Step). She likes animals, but has never been allowed to have a pet dog or cat. She is quiet, enjoys school, especially English class, likes participating in school activities. Her parents' nickname for her is "Cookie."
Sam and Grace Parker - Donna's father is a businessman (later we find out he's a salesman, although we don't know of what), of course for those days her mother is a full-time homemaker, although she used to be a teacher. In the earlier books, illustrations have her dad appearing older, with a moustache, and smoking a pipe; in later volumes the moustache disappears and he drawn is a bit younger looking. He loves to tease the children. Donna's mother remains strict from her teaching days, although still very fair and pleasant; she likes to play cards, attends lectures on parenting, dislikes pets (she thinks they are untidy and spread germs), and is forever insistent about the children eating a full breakfast. (If you were given ten dollars each time Grace Parker insists the kids eat their breakfast, you could have a tidy sum by the time you'd finished all seven books!)
Jimmy Parker - Donna's pesky little brother, is seven when the series opens, and eight in the second book of the series, which begins as school opens, so his birthday must be some time during the summer (since he has turned nine by the time Donna goes to Camp Arawak, which is in August, his birthday must be in July). He is, as little boys of the era which the series was written, crazy about baseball, football, and cowboys, and shouts a lot, bangs doors, and generally rattles Donna, who is a quiet sort. His best friend is Skipper Gray, whose family lives next door to the Parkers. (Babette Gray is Skipper's mom.)
Fredericka "Ricky" West - Donna's best friend, probably since they were children. Donna's mother comments in the first book that she and Donna are so close that sometimes they could be twins. However, Donna's and Ricky's interests begin to separate as they start ninth grade, and although they remain close friends, both of them enjoy other friends' company as well. Ricky is redheaded, and just a little excitable; she has a wild imagination and whenever something vaguely mysterious happens, Ricky is always there to embroider some wild story about it. Although like Donna she likes clothes and dressing up, she is a little bit more of a risk taker.
The West Family - We never get to learn the first names of Ricky's parents, although looking at her first name, one might presume she is named after her father. In the first book of the series, Ricky refers to herself as being "the youngest," which implies she has brothers and sisters, but we never meet them and they are never referred to as being away at college or living elsewhere.
Donna's Friends - Until going to high school, Donna runs around pretty much with the same group of friends; she makes several new ones after joining the newspaper club in Special Agent. One friend mentioned from the first is Anne Franklin, a tall blond girl who loves to play jokes. Others include Karen—who is given no last name for the duration of the series!—Bill Blanchard, Tommy Sheridan (whose father owns Sheridan Helicopters), Jack Kingston, and Mary Jefferson. Donna converses often with Karen, Mary, and Anne (in one book they have a slumber party), and in Special Agent does homework with Tommy, but they are basically just supporting players, and although we know Anne likes animals, that's about as deep as we get into any of them.
Where's Summerfield?
Donna and her friends and family live in the small town of Summerfield. In these series, usually the location seemed to be a nondescript midwestern town; however, Summerfield is definitely located in the northeast somewhere, given its description of being "two hours from New York City." When the family flies anywhere, they depart from Idlewild Airport (now JFK).
My guess it's somewhere in upstate New York, but it could also be in Connecticut or New Jersey.
- - - - - The Novels - - - - -
The author of all seven books is Marcia Martin.
The first four books, published in the 1950s, had colorful wraparound covers.
When the fifth was published, with a simplified cover, all the previous four covers were revised to go along with the new look.

Donna Parker at Cherrydale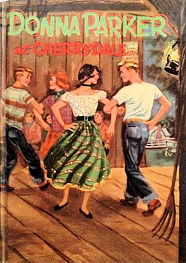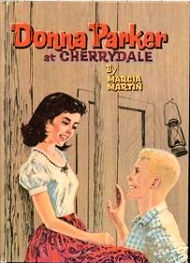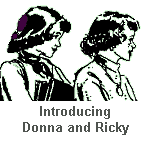 Synopsis: As summer begins, Donna Parker and Ricky West are looking forward to two different summers: Donna will be working as a junior counselor at a camp run by a famous pediatrician and his wife, Dr. and Mrs. Duval, and Ricky is trying to find summer employment—until one of the junior counselors at Donna's camp is stricken with measles and Ricky accompanies Donna to Camp Cherrydale in her place. Both get the assignments they want, although Donna is a bit perplexed by her senior counselor, Bunny Knight, who seems to be distant and unhappy—but one question nags the girls all summer: just why don't Dr. and Mrs. Duval want anyone to explore the nearby woods and the old house on that property...could it be something more than being afraid they will get hurt?
Comments: This first book of the series also marks the first appearance of Richard White, who reappears several times (albeit with a later name change). There's a one-time appearance by a classmate of Jimmy's, Nancy Bond, a spoiled child who terrorizes her campmates and who is later taken home. Also appearing in the first of his two appearances is Paul, "the Count" (really the Comte de la Tour-Pointue).
Even back when I first read the books, I noticed Donna and Ricky seem older than thirteen in the first two volumes (they're even drawn older in the illustrations). If Donna had not talked about starting ninth grade in the next year, I would have guessed they were both sixteen by their manner of speech. Although research tells me all the Parker books were written by Marcia Martin (a pseudonym for Marcia Levin), the first two books seem different in tone.

✦ ✦ ✦ ✦ ✦

Donna Parker, Special Agent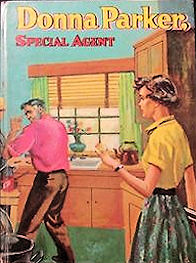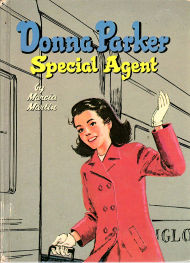 Synopsis: Donna's and Ricky's interests begin to diverge as they begin ninth grade. While Ricky is determined to be in the drama club, Donna prefers to join the journalism club, which puts out the school newspaper, The Summerfield Sum-It-Up. She makes many new friends there, including the club advisor, Miss Fischer, but worries that she and Ricky are not as close as they used to be. She also runs afoul of several different people: Mr. Brown, the surly new janitor; Joyce Davenport, who is elected editor of the Sum-It-Up, and who thinks she "knows it all" because her father is the editor of the town newspaper, the Summerfield Daily Bulletin; and Miss Merwood, the extremely eccentric cooking teacher. It is an exciting year as she helps the club compete in a journalism contest and becomes involved with encouraging people to vote in local elections. To compound her problems, her mother's youngest brother, Roger Norcross, who left home when he was in high school, suddenly returns. Donna doesn't know what to make of this man, and even has suspicions that he might not be her uncle.
Comments: We meet more of Donna's friends in this book, and get a look at her school life. It's also the first time Donna and Ricky have a serious disagreement.
Paul, the Count Donna and Ricky meet at Camp Cherrydale, returns for this entry's cloak-and-daggerish ending.
Joyce Davenport, the supercilous newspaper editor's daughter, seems to be tempered by her experience in this novel. She goes on to become a close friend of Donna's and even of her friends, although modern girls would wince at Joyce's later contention that she doesn't want to be known as a "brain" anymore because it would cost her her new friends.
Spoilers! By the end of this story, Uncle Roger has fallen in love with Miss Fischer and she with him. They will be married and move to California. Uncle Roger's secret is that he works with sound systems in the movies and he excites Donna with an offer that she someday come and visit him and her new aunt out in Hollywood.

✦ ✦ ✦ ✦ ✦

Donna Parker on Her Own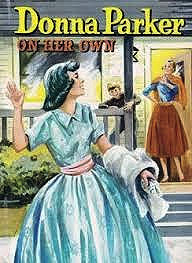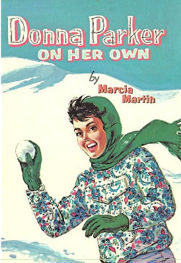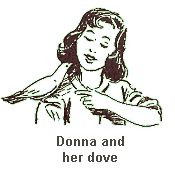 Synopsis: When Donna's mother is given the opportunity to go to India with her husband on a business trip, Donna and Jimmy are left in the care of Miss Marjorie Dengrove, a teacher at Jimmy's school who is tired of living in a boardinghouse. Life with Miss Dengrove, who comes from a wealthy family, is a treat to both Jimmy and Donna, as she is not as strict with meals or about housecleaning as their mother. But soon Donna begins to suspect either Marjorie—or Jimmy—is responsible for the family's budget money that keeps disappearing.
Comments: Two supposedly "regular" characters appear in this book that are never seen again: Donna's pet dove that her dad brought home over her mother's protests (in Takes a Giant Step the narrative explains that Donna owned a pet dove "once"; it's not explained what happened to it), and Gladell, the Parkers' once-a-week "heavy cleaning" lady.
By this book Donna and her friends seem to have changed. It may have been that the publisher thought the characters acted too mature for their ages, for the tone of Donna's relationship with her parents is definitely different. She calls her mother "Mommy" a lot more than she did in the first two books and complains a lot more about being treated as a child. Also, a "had I but known" element creeps into the narration from this story onward: Donna will reflect on missing a clue or a hint that something was going wrong, or that a decision she made led to problems, etc.
The underlying theme of this novel seems to be that children are better off with rules and discipline. Many disasters happen because Marjorie doesn't keep Mrs. Parker's rigorous schedules and we are exposed to two families with undisciplined children: Timmy and Ronnie, the two little boys Donna previously babysat in Special Agent during the election, and the bratty children of a child psychologist. Marjorie's own undisciplined behavior and that of her "Mumsy's" friend Stacey Cunningham also cause problems. By the conclusion of the book Donna is convinced that some rules are better than none at all.

✦ ✦ ✦ ✦ ✦

Donna Parker: A Spring to Remember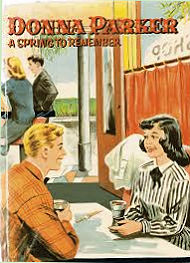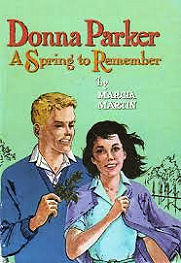 Synopsis: Richard White, who first appeared when Donna went to Camp Cherrydale, returns in this story. While Donna is trying to get all A's and win the school's Outstanding Girl Award to earn the coveted ticket to Hollywood her uncle Roger promised her, Richard—who now asks Donna to call him Paul, which is his real first name—is about to quit school and go to work due to family financial problems. However Donna has no way of knowing that a crisis in Ricky's life will threaten to change their friendship forever.
Comments: While Paul's fears for his family are very real to him, modern readers will probably laugh at his attitude toward the crisis in his family. Paul's father has lost his job and is taking his time looking for a good, new one, so to earn money, Paul's mother goes to work as an interior designer, and Paul becomes very upset that his father is not "doing his part" as the family breadwinner, thus "forcing" his mother to "have" to go to work. Paul eventually finds out that his mother wanted to go to work, although he is positively gobsmacked to find out she would prefer being a designer over cleaning house!
Spoilers! The majority of the story has to do with the sickness and then death of Ricky's mother and how this affects her friendship with Donna, who is aghast when Ricky suddenly starts acting wildly different: going on spending sprees and buying clothing much too mature for her, asking her father for expensive items, and actually competing against Donna for a school award. Mrs. Parker sees Ricky's actions for what they are, compensation for the loss of her mother, but Donna cannot see her friend's actions as anything but unfriendly. However, a death in the story was quite startling for those days. While deaths happened frequently in Victorian novels, forties and fifties girls' novels usually spared the reader these real-life cruelties (if a character was motherless or fatherless, it had usually happened before the series began, like in the Beany Malone or Katie Rose books by Lenora Mattingly Weber), so the fact that Ricky's mother sickens and passes away during the course of the story was very unsettling.
We also see Bunny Knight, Donna's senior counselor at Cherrydale, again in this novel when Donna is a bridesmaid at her wedding. We are introduced to Eloise "Ellie" Townsend, Bunny's ballet-dancing cousin, who will reappear in Donna Parker in Hollywood.
Donna graduates ninth grade here, and is valedictorian of her class. Even though she does not get straight A's (she had a B in algebra), Uncle Roger, who promised her a plane ticket to California if she got a perfect report card, trades her valedictorian honor for the B.

✦ ✦ ✦ ✦ ✦

Donna Parker in Hollywood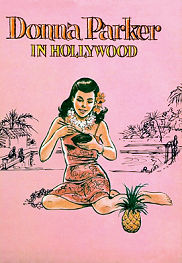 Synopsis: On the aircraft on her way to Hollywood, Donna meets Bruce Maslin, a fun and handsome but irresponsible high school boy who continues to pop up during her stay at the home of her Uncle Roger and Aunt Adele (neeacute; Miss Fischer). While Donna tries to find out what happened to the missing Indian statuette she was supposed to bring to her uncle and aunt, she meets Mike Langley, a sweet but very serious boy who seems to do nothing but work; Linda Atkinson, the daughter of a famous screenwriter whose friendships seem to depend on how much money she has to throw fancy parties; and Jennifer Bristol, a girl devoted to her drawing—and keeping some mystery about her mother a secret.
Comments: Most of the characters introduced in this book will never appear again; we do see a familiar face not only in Uncle Roger and Aunt Adele, but in Ellie Townsend, who Donna meets for the day when her uncle and aunt take her on a trip up the coast. Of interest in this story are some of the tours Donna takes and which of the California landmarks are still there. Olvera Street and the Farmer's Market still exist, but Pacific Ocean Park is long gone.
In a nice follow-up from On Her Own, Donna is bringing her uncle and aunt a Ganesha, a statuette of an Indian god that her parents brought home from their Indian trip.
On a personal note, this was the first Donna Parker book I owned. I was about nine at the time, and I remember asking my mother if the actors that Donna mentions meeting in the story are real. (Of course now I know they could not be for legal purposes.) I was very insulted that they were not and didn't read the book again for years!

✦ ✦ ✦ ✦ ✦

Donna Parker: Mystery at Arawak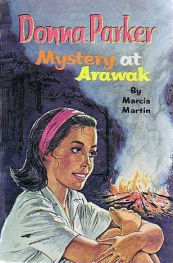 Synopsis: Home from Hollywood, Donna is supposed to spend the rest of the summer at Camp Cherrydale, but ends up going to Camp Arawak instead, as a substitute junior counselor. Once there she is involved in the dramatics club and the camp bazaar—and saving Camp Arawak and its companion boys' camp Caribe from a possible developer after mysterious fires threaten the future of the camp. While there, Donna makes friends with Amy Alexander, a girl embarrassed by her intelligence, and Jody Strong, a "poor little rich girl," and tries to figure out why her senior counselor, Helene Farragut, is so touchy about her privacy.
Comments: For someone who didn't want to take dramatics with Ricky in Special Agent, Donna keeps getting involved with amateur theatrics! She ends up producing what sounds like a radio show. It's a nice touch that Donna befriends Amy "the brain" (who keeps bewailing her intelligence) even though she's been told to keep away from her; "she's poison." It is Amy who comes up with a solution for one of the mysteries.
This is about the only Donna Parker book where she really solves a legitimate mystery: what causes a fire that could close down the camp. (One might argue that learning the identity of Paul, finding out about Mr. Brown, and discovering who Mrs. Breustle really was could be construed as mysteries, but the fire incident is more like something Trixie and Honey or Robin Kane might solve.)

✦ ✦ ✦ ✦ ✦

Donna Parker Takes a Giant Step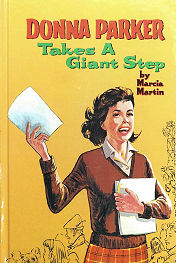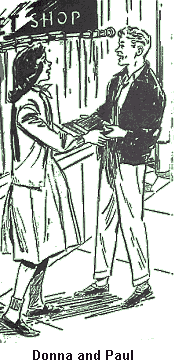 Synopsis: The "giant step" is Donna's first year of high school; unable to make the school cheerleading squad because of Ricky's mistake, she volunteers to sell programs for the football team and comes under the wing of Janie Ingersoll, a girl infatuated with the team's star player, Rudy Hinkle. Meanwhile, the Parkers' houseguest, Jeff Stanhope, son of family friends who are moving to Summerfield in a few months, becomes very popular at Donna's school and starts a movement to build a teen center after house parties in Summerfield become targets of marauding teens from a neighboring town.
Comments: In an incredible coincidence, Paul White and his family are moving to New York at the same time as the Parkers' friends the Stanhopes want to move to Summerfield. So in Takes a Giant Step we see the exit of Paul and the entrance of Jeff. Also, amazingly, Mrs. Parker finally allows a pet in the house, Jeff's Basenji "Benjie."
Subjects that would still seem serious today are tackled in this final book of the series, first the subject of having a teen center to avoid parties at students' homes being crashed and houses damaged by unruly students (although today we would probably worry more about more serious vandalism: fires, drug use, and even shootings). The other is the matter of Janie and her boyfriend, who uses her, and her protection of him nevertheless, which today would probably be translated into the more serious problems of abuse.

- - - - - A Few Donna Parker Links - - - - -
Donna Parker series on Wikipedia
Reviews of almost all of the books on Lost Classics of Teen-Lit
Donna Parker mentioned in "Series Books for Girls"
Donna Parker: Special Agent can be read at Open Library if you sign up (it's free).