Updated October 18, 2020

• NEW! • Added links to more St. Nicholas issues online, corrected some links.

Discovering St. Nicholas  |  Before St. Nicholas  |  About St. Nicholas
St. Nicholas Regular Features  |  The St. Nicholas League  |  St. Nicholas Stories & Serials
Beyond the Magazine / Its Later Years  |  How Does It Looks Today?
St. Nicholas Online  |  St. Nicholas Links  |  St. Nicholas Books
---

Discovering St. Nicholas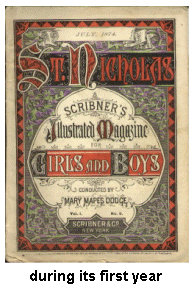 As one who enjoys Victoriana and Edwardian children's fiction, both stories written during the era and those set during Victorian/Edwardian times, I was surprised one day in 1991 while wandering Atlanta's late and very lamented Oxford Too used bookstore: thrust among the books sat an issue of a magazine I knew well from novels written during the era, an copy of St. Nicholas. To a person brought up on the bright colorful graphics and large typography of Jack and Jill, Highlights for Children, and Humpty Dumpty, the small print and black and white illustrations were a novelty. In addition, the issue, May 1917, was published just three months after my mother's birth. As a further surprise, one of my favorite books, Dorothy Canfield Fisher's Understood Betsy, was serialized in its pages.
The issue became a fixture in my children's book collection, but I gave it no more thought until some time later when I discovered—again in Oxford Too—a copy of Henry Steele Commanger's St. Nicholas Anthology. It was mixed, as these books usually are, among Christmas material; when I peeked at the contents page, I knew this would be a welcome library addition. Through its introduction and contents I found out about the long history of St. Nicholas magazine, its famous contributors and League members, and all about those serial stories.
My collection fever really began, however, in 1997, when I found a very abused bound copy of the November 1888 through April 1889 issues in Boston's Brattle Books. This brief excerpt of the multi-generational span of St. Nicholas fascinated me, and since then I have been collecting bound volumes, along with some individual issues. Since I'm not a collector (and certainly not possessing a collector's pocketbook!), I'm not looking for quality of binding as much as content—and from that St. Nicholas has given me rich rewards.

Before St. Nicholas

The earliest magazines for children were produced in England. The Child's Companion, or Sunday Scholars' Reward, was first published in 1824. Another magazine, which ran from 1826 to the 1860s, was called The Children's Friend, edited by the Reverend Carus Wilson. As these titles and editors might imply, the magazines contained strongly moral tales and "provided countless examples of pious infants whose conviction of sin was profound and whose deaths were edifying." They were not much different from the books of the day preferred by parents and ministers, which portrayed wicked children—even those who performed so simple a "crime" as teasing or name-calling—being eaten by bears or struck by lightning for their sins, and good children as those who were studiously obedient, never wandering from the "straight and narrow," and who recited lengthy Bible verses as easily as their own names. Indeed, these good children were often "rewarded" with an uplifting death in which they left this wicked Earth to ascend to Heaven with their souls unstained.
Other English magazines included The Youth's Monthly Visitor, The Charm (which only lasted 2 years), and Young Folks, the last which appeared in 1871. By this time strictly instructive tales were out of favor and had softened—while these magazines emphasized upstanding young characters eventually triumphing over others who were cruel or selfish, the youthful protagonists were permitted to act more naturally than their Biblical text-quoting predecessors without being considered immoral. Robert Louis Stevenson's Treasure Island was first serialized in the pages of Young Folks.
Children's magazines in America showed a similar evolution. The first American children's' magazine was The Juvenile Miscellaney, published in 1826. It was in the pages of this magazine that the nursery rhyme "Mary's Little Lamb" was first printed. However, the magazine did not last long after its first editions due to political issues: its editor, Lydia Maria Child, was a ardent and well-publicized abolitionist, a viewpoint not in vogue at the time. The noted Riverside Magazine also had a short life after being a pioneer of sorts: its editor became friends with Danish author Hans Christian Andersen and persuaded Andersen to publish many of his fairy tales in The Riverside Magazine. The editor was, in fact, so impressed with Andersen's tales that he taught himself Danish in order to translate them as faithfully as possible.
Four other children's magazines emerged mid-century: Parley's Magazine (1833-1844), Robert Merry's Museum (1841-1872, often referred to as simply Merry's Museum; which had Louisa May Alcott as one of the editors), Our Young Folks (1865-1873), and Wide Awake! (1875-1893). The latter featured, in 1881, the first appearance of Margaret Sidney's Five Little Peppers, and both Our Young Folks and Wide Awake! were eventually bought out by, and merged with, St. Nicholas.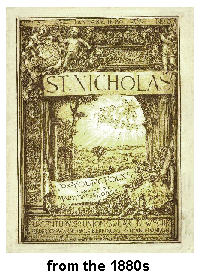 The most well known children's publication of the day, however, was Youth's Companion (a.k.a. The Youth's Companion), published in Boston, which made its debut in 1827 and ran until 1929, when it merged with the magazine American Boy (which ceased publication in 1941). At its height, Youth's Companion boasted a circulation of around 500,000. While Youth's Companion emphasized wholesome characters—during its long run neither alcohol nor tobacco use were ever mentioned in its pages (not even by responsible adults) and love stories were only permitted after the 1890s (and then "only in circumspect fashion"; today's audiences may find it amusing that many people cancelled their subscription when such "adult subjects" were included in the issues!)—they also "exiled death" from its pages (presumably the infant martyrs so in vogue during its conception). Both Francis Bellamy's "Pledge of Allegiance to the Flag" and Katherine Lee Bates' poem "America the Beautiful" made their debuts in the pages of Youth's Companion, and the periodical is often mentioned in many books written or set during its tenure. For example, in her "Little House" books, Laura Ingalls Wilder mentions that the Ingalls sisters received a big package of Youth's Companion issues in a missionary box; these are saved to read over long winter evenings after supper. Indeed, probably because of the temperance principles espoused by the magazine, Youth's Companion appeared to be very popular with church groups.
Through much of its run, Youth's Companion was published weekly in a newspaper-type format ranging from two to twelve pages, and not only ran concurrently with St. Nicholas, but shared many of the same writers. Most of the St. Nicholas contributors mentioned below wrote for Youth's Companion as well.

About St. Nicholas

In 1872, Dr. Josiah Gilbert Holland approached the Scribner publishing house with his idea for "a magazine for children, a magazine of lively, well-written stories, poetry, and articles, a magazine with the same high standards as the monthly which they [Scribners] published for adults." The publishers agreed, and writer Mary Mapes Dodge was chosen as editor.
Born in 1831, Dodge grew up in an unconventional household. Her father, a scientist, bought a broken-down farm to practice his agricultural theories on and chronicled his efforts to turn it into a success. The elder Dodge's experiments in farming, later published, were to prove beneficial to farmers everywhere. His daughter kept the family books, helped her father plan the rotation of the crops, and, along with her father, edited a magazine called The Working Farmer. By the time she was chosen as editor for Scribner's new children's magazine, she had already written many children's stories, including the one she was best known for, the novel Hans Brinker; or The Silver Skates.
Dodge knew immediately that she wanted the magazine to be named St. Nicholas after the children's saint, the epitome of loving and giving. Her magazine would provide gifts to children as he did, gifts of fun as well as learning; she wanted it to be a "child's playground; where children could be delighted as well as be in charge." What St. Nicholas would not be was didactic. She wanted "no old jokes, no sermonizing, no dwelling on hard facts," although they would not be ignored. Each issue would contain a variety of stories, both fiction and nonfiction, songs, and poetry. The illustrations would also be of high quality, not done as an afterthought, but executed by some of the premiere artists of the time. Charles Dana Gibson, originator of the classic 1890's "poster ideal" the Gibson Girl; fairy tale illustrator Arthur Rackham; Norman Rockwell, the quintessential illustrator of Americana; and Howard Pyle, famous for his Robin Hood and King Arthur stories and illustrations, all contributed to St. Nicholas. Palmer Cox, the man behind the mischevious Brownies, for whom Kodak's Brownie camera was named, also contributed his popular poems and illustrations to the issues.
The St. Nicholas illustrations, which ranged from full-page engravings to spot sketches and silhouettes to embellished title banners that contained the story title and author's name in a fashion befitting the story subject--a woodland tale, for example, would be illustrated with winding vines, branches, and lettering using a log motif--were at first hand-drawn. Later, when it became feasible to print photographs, they also became used as illustrations, chiefly for the factual articles and essays.
Dodge's editorial policy was as follows, and did not change during the course of the magazine's history:

"To give clean, genuine fun to children of all ages.
To give them examples of the finest types of boyhood and girlhood.
To inspire them with an appreciation of fine pictorial art.
To cultivate the imagination in profitable directions.
To foster a love of country, home, nature, truth, beauty, and sincerity.
To prepare boys and girls for life as it is.
To stimulate their ambitions--but along normally progressive lines.
To keep pace with a fast-moving world in all its activities.
To give reading matter which every parent may pass to his children unhesitatingly."
Thus St. Nicholas was one of the first children's magazines that did not insist that kids learn overt, severe lessons about being good, or what happens when you are bad. Certainly both sexes were encouraged to be studious, truthful, and polite; good "manly" behavior was encouraged in boys, and "good girls" were those who were ladylike and practiced charity and patience, while children who were bad ultimately suffered the consequences and learned the error of their ways. And certainly didactic prose was not totally absent from its pages. However, these lessons was done in a more natural method than youngsters being smote by the Will of God or devoured by wild beasts.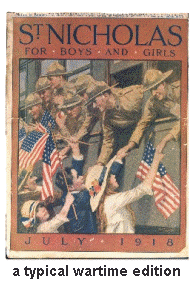 For a modern public grown up on full color children's magazines with large, friendly print and bold, brightly-hued illustrations and splash graphics, a somber-looking issue of St. Nicholas might be somewhat of a shock. Those familiar with old magazines might think they bear a striking resemblance to the Strand issues in which the Sherlock Holmes' stories were first published. St. Nicholas was about the same size and format as that famous British publication, the stories printed in 9 or 10 point type in two columns on each page (in May 1926 this was changed to a three-column format, and the size of the magazine's pages were enlarged). The first issue of St. Nicholas was sold to the public in November of 1873.
A typical early issue of St. Nicholas featured a black-and-white, ornately lettered and patterned cover which might have touches of sepia or red. When color printing became less expensive and easier to produce around 1920, St. Nicholas converted to painted covers created by some of the most renown artists of the day. Some of them featured spectacular scenery, such as a schooner under full sail, or a countryside thick with flowers. Many featured the high technology of the day: those newfangled motorcars and telephones, later zeppelins and airplanes. Other covers showed boys participating in active sports such as football—girls were also featured in those active sports they were allowed participation in: tennis, hiking, sailing, swimming, field hockey, or horseback riding. The remainder simply showed children in typical situations such as walking home from school, strolling the seashore in typical "bathing costumes" or sunsuits, gathering flowers. In the later years the Christmas "numbers" featured cover portraits of Santa Claus.
In the initial issues, only the back pages were reserved for advertisements: a few full-page promotions from popular manufacturers, but mostly one- and two-inch half column ads. In later issues the first 20-30 pages would be advertisements, as would the last pages, but the magazine portion proper was not sullied with sales pitches. (When the magazine underwent its format change to three columns in 1926, the first half of the magazine was still undisturbed by advertisements, but, unfortunately, stories "continued on page #" were a product of the format change, and the second half of the issue had full and partial column ads scattered among the endings of stories. )
Some of the advertisements were meant for the adults who read the magazine to their children, ads for products and services like Old Dutch cleansing powder, Pears' soap, Horlick's malted powders for good digestion, breakfast cocoa, Columbia phonographs, Bell telephone systems, garters for youngsters' stockings (even babies!), and Baker's chocolate, but others were aimed squarely at the older readers—indeed, to encourage children to read the ads, contests were often held centering around them, with the winners receiving cash prizes. Fashionable suits "like father wears," stockings for hard play, or square-toed shoes to promote healthy feet were popular. Later ads were also in color and drawn by popular illustrators such as Norman Rockwell and Bessie Pease Guttman. Books were also advertised, as were bicycles, and later crystal sets and model airplanes, and always there were advertisements for pets, including ponies, birds, and purebred dogs: one 1917 promotion for Airedale terriers proclaimed "the real dog for the real boy." A good part of the opening sections' advertisements were dedicated to camps for boys and girls—some of the girls' camps accepted unmarried women as old as thirty—and also boarding schools whose resumes emphasized healthy sports, music and fine arts, domestic science, horseback riding, and gymnastics.
This is a good time as any to mention the intended audience for St. Nicholas, boys and girls ages five to eighteen. At the time St. Nicholas was published, there were no distinguishing lines between childhood and the teenage years. Children were children until they were married or, mostly in the case of boys in earlier years, went to college. No provision was made for "teenage angst," hormones, or sullenness now considered "normal" in young people ages 13 to 19. As you grew older, you accepted more responsibility, were given more privileges, but there was no "rite of passage" into your teens. This was a product of the later 20th century. (The word "teenager" was not even coined until the 1930s.) So a parent or relative might begin giving a child St. Nicholas as a Christmas or birthday gift at age six or seven and the gift would continue until the young man or woman left home at age eighteen. Even then, the magazine received many mournful letters from boys and girls who had just turned eighteen and were thus no longer eligible to participate in the magazine's various activies. Thus St. Nicholas stories ranged in interest from animal stories for the very young (the two- or three-page "For Very Little Folk" was featured in issues prior to the mid-1920s, but today we might consider the vocabulary more for seven or eight year olds!) to tales about college-age girls and older boys' sports and adventure stories.
The nonfiction articles were especially notable in that they served as a window to the world during the Victorian/Edwardian/World War I/postwar era, but were written in an adult style and were not "dumbed down" for younger children (it was understood that a parent, other adult, or older sibling would be supervising the child's reading and thus available for explanations). For young people without television or the Internet, the articles served as a written and illustrated—later photographed—tour of the United States and the rest of the world. Just some of the subjects covered were portraits of famous American cities; aviation history; the American armed services; the workings of the United States government; animals both wild and tame; biographies of famous Americans; profiles of foreign monarchs both past and present; observations on visits to foreign cities; profiles of internationally famous inventors, musicians, and artists; histories of inventions; historic boys and historic girls; and the exploration of the Old West or the North and South Poles or the jungles of the Amazon.
Articles in the latter years also covered persons in the news such as Charles Lindbergh and Lawrence of Arabia, the building of new technology such as radios and even a look at early television, and many profiles of new aircraft. In addition, such historical luminaries such as Henry Stanley, Herbert Hoover, and Theodore Roosevelt produced nonfiction pieces.

St. Nicholas Regular Features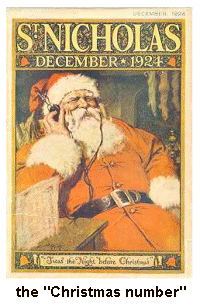 Like other magazines, St. Nicholas had its regular departments. Mary Mapes Dodge eschewed the conventional editorial page—which other publications of the time might have used for instructive lectures—and instead wrote a column called "Jack-in-the-Pulpit," which typically featured a paean to whatever month the issue was for, then short articles, reader letters, and miscellanea about animals, people, places, and curiosities. Readers also contributed correspondence to "The Letter Box", marvelously well-composed letters written by children as young as seven or eight years old, that contained not only comments about previous issues, but more than likely a profile of the child's home, family, or even pets. These children were in general middle class or well-to-do since St. Nicholas cost the then-expensive price of 35¢ per issue, but many children who could otherwise not afford the issues were given subscriptions as birthday or Christmas gifts by relatives, or they read the issues in libraries. Thus readers included homesteading children, orphans, and even settlement house denizens.
In fact, since St. Nicholas readers were world-wide, young correspondents writing before and right after the turn of the 19th century might talk about visiting a "spa" in Germany or the "baths" in England, or seeing the changing of the guard in Edinburgh or a Hindu parade in India, as well as talking about their frontier homes in the wilds of the Dakotas, Oklahoma Territory, the Southwest, or a Montana ranch miles from the nearest town. Older children also contributed to "The Riddle Box," a collection of charades, word squares, illustrated acrostics (look also at this "Liberty Puzzle,"), "King's Move" puzzles, diamonds, "beheadings and curtailings," and other brain teasers that would make many adults blanch today. (I consider myself an educated person, but I can do few of the puzzles contained in any of the St. Nicholas Riddle Box columns I have read so far!) When the "crossword craze" began in the 1920s, St. Nicholas readers and writers began to provide those as well.
Other departments incorporated in the coming years included "The Watch Tower," an overview of current events explained for children—this was added in 1915 and provided early coverage of "the Great War" (later the efforts of America and Europe to rebuild were covered as well as internal politics); "Nature and Science for Young Folks," a product of the 1890s; and the late 1920s' "The Radio Department," which gave detailed schematics on how to build your own radio, as well as how to travel with one of these newfangled "wireless" gadgets. One early feature lasted only until 1885, "The St. Nicholas Almanac," which emulated the adult versions; and the younger children's corner, "For Very Little Folk," was phased out during the 1920s. During the 1880s, St. Nicholas's "Agassiz Association" was an institution in every issue; named after educator and naturalist Louis Agassiz, members of the Association formed neighborhood chapters to study natural science, from insects to geology to the migration patterns of birds. Each month St. Nicholas printed reports from a selection of these local clubs.
When the United States joined the fighting in World War I, yet another feature was added: "For Country and For Liberty," a collection of stories about the war and the effort to support "our boys at the front," including portraits of military leaders, things children could do to help the soldiers and on the homefront, and tales of courageous French and Belgian children on the front lines of the war.
Other regular features at various times were columns on books (these underwent several title and author changes; the most popular series, "Books and Reading," was written for some years by Hildegard Hawthorne, a descendant of Nathaniel Hawthorne, who also did essays on other subjects) and a long-lived column on stamp collecting. In the 1870s, short stories in French and German were also published, with a reader challenge to translate them.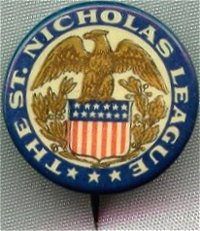 In 1898, St. Nicholas, now owned and published by the Century Company after a Scribner reorganization in 1881, began what was probably the most beloved regular feature of the magazine. This was "The St. Nicholas League," the brainchild of Albert Bigelow Paine, an organization for the children themselves, one in which they could contribute original fiction, nonficton, artwork, photographs, poetry, and puzzles to the magazine. The aims of the St. Nicholas League, according to the magazine itself (abridged for brevity):
The St. Nicholas League

The St. Nicholas League is an organization of the readers of the St. Nicholas magazine.
The League motto is "Live to learn and learn to live."
The League banner is the Stars and Stripes.
The League badge is a beautiful button bearing the League name and emblem.

Aims

     The St. Nicholas Leagues stands for intellectual advancement and for higher ideals of life. "To learn more and more of the best that has been thought and done in the world"--to get closer to the heart of nature and acquire a deeper sympathy with her various forms--these are its chief aims, and the League is in favor of any worthy pursuit or pastime that is a means to this end.
     Book-study alone is not followed by the best results. Direct friendship with the woods and fields and healthful play are necessary to the proper development of both mind and body.
     The St. Nicholas League also stands for intelligent patriotism, and for protection of the oppressed, whether human beings, dumb animals, or birds. These things are the natural result of culture and higher ideals. He who enjoys life and liberty, knowing what they mean, cannot willingly see others deprived of them.

The Gold and Silver Buttons

Six solid gold buttons and six silver buttons will be awarded each month as first and second prizes for the following achievements in the varied competitions offered by the League:


The best two drawings in pen and ink...
The best two poems...
The best two school compositions...sent in with the consent of
     teacher...subject to be announced each month.
The best two amateur photographs...
The best two puzzles (any sort)...
The best and neatest answers to all St. Nicholas puzzles...

Thus talent, patience, and ingenuity all have an opportunity, and the prize buttons are beautiful tokens of merit and distinction.
Once you had won both the gold and silver badges, you became an Honor Member, and were entitled to cash prizes.
While most of the children who contributed to the League's pages went on to other careers, for some it was the beginning of a life devoted to writing. These noted writers saw their work in print for the first time in St. Nicholas:
Stephen Vincent Benét
Rachel Carson
Bennett Cerf
Rachel Field
Corey Ford
Ring Lardner
Edna St. Vincent Millay
Sterling North
Cornelia Otis Skinner
Eudora Welty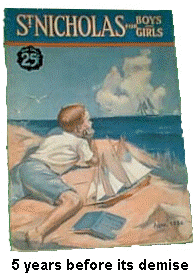 Naturalist Rachel Carson was a regular contributor to the St. Nicholas League. She began reading the magazine from early childhood, and in 1918, her first contribution "A Battle in the Clouds," a World War I story influenced by her brother in the service, was not only printed in the magazine, but she won a silver badge for her efforts. She submitted two more stories on a similar theme, and her third story won a gold badge. She was eleven years old at the time. Her next story, a retelling of Admiral Dewey's victory at Manila Bay in the Spanish-American War, won her honor status and ten dollars. In 1921, at the age of fourteen, she was paid her first professional wages for a story—again in the pages of St. Nicholas.

St. Nicholas Stories and Serials

The most remembered memories of St. Nicholas readers are those of the stories, poems (for both the younger set and their older counterparts), plays, and serials that crowded its pages. The themes of the tales were myriad: adventure, courage, good sportsmanship, discovery, friendship, mystery, ingenuity, charity, sentiment. They celebrated holiday tradition, ambition, exploration; the changing role of women in society, the uses of new technology, and the different ways of life in foreign lands.
St. Nicholas contributors were some of the best-known writers of the time, and today many of them are still read and enjoyed. Others were well-known and beloved to St. Nicholas audiences but have been forgotten today—people like Frank Stockton, who not only wrote modern-day fairy tales for the magazine, but for many years assisted Mary Mapes Dodge; Tudor Jenks, Augusta Huiell Seaman, whose girls' mystery stories predated Nancy Drew; and Ralph Henry Barbour, whose boys' sports stories were eagerly awaited every month.
Rudyard Kipling was an early St. Nicholas contributor—the stories later collected as The Jungle Book first appeared in the magazine's pages; his "Just So" stories and his semi-autobiographical tales about young Punch and Judy also delighted St. Nicholas readers—as was Lucretia P. Hale, whose adventures of the hapless Peterkin family were first published in Our Young Folks, then in St. Nicholas. Louisa May Alcott's stories were also a treat for early readers; mournful letters appeared in the magazine after her death. Howard Pyle's magnificent illustrations as well as his heroic stories of Arthurian knights and Robin Hood were a staple at the turn of the century.
Albert Payson Terhune's dog stories—including the oft-anthologized "One Minute Longer"--appeared in later issues of St. Nicholas, Western writer Bret Harte produced tales of the frontier, and Joel Chandler Harris' Uncle Remus stories first appeared in the pages of St. Nicholas.

A very long "short list" of other frequent contributors (PLEASE NOTE: The titles in parentheses are those the writer is most well known for, not necessarily stories that appeared in St. Nicholas.):
William Cullen Bryant
Ellis Parker Butler ("Pigs is Pigs")
Susan Coolidge (What Katy Did)
Richard Harding Davis ("Gallegher," "The Bar Sinister")
Emily Dickinson
J. Frank Dobie
Eugene Field ("The Gingham Dog and the Calico Cat")
Edward Everett Hale ("The Man Without a Country")
Sarah Orne Jewett ("A White Heron")
Charles Kingsley (Westward Ho!)
Sidney Lanier
James Otis (Toby Tyler)
John Bennett (Master Skylark)

James Whitcomb Riley
Cornelia Meigs (Invincible Louisa)
Alice Hegan Rice (Mrs. Wiggs of the Cabbage Patch)
Christina Rossetti ("Who Has Seen the Wind?")
Ernest Thompson Seton (Wild Animals I Have Known)
Robert Louis Stevenson
Alfred Lord Tennyson
Mark Twain
John Greenleaf Whitter
Laura Ingalls Wilder (Little House books)
Kate Douglas Wiggin (Rebecca of Sunnybrook Farm)
Last but not least was Call of the Wild author Jack London. According to A Critical History of Children's Literature, London owed his writing career to St. Nicholas magazine. While living a wayward life on the San Francisco waterfront, London visited the Oakland Public Library and picked out a bound volume of St. Nicholas for 1884. A story by E.M. White in the November number, "The Cruise of the Pirate-Ship Moonraker," so impressed him that he decided to give up his wild life, offer his services to the state fish patrol, and learn to be a writer. His "Cruise of the Dazzler" later appeared in the magazine.

The stories most children seemed to recall vividly were the serial stories. Some of the children's books still read and reread today were originally serialized in St. Nicholas. Here, in a highly abbreviated list, are just some of them:
Louisa May Alcott: An Old-Fashioned Girl, Under the Lilacs, Jack and Jill, Eight Cousins, Jo's Boys

Dorothy Canfield Fisher: Understood Betsy

John Bennett: Master Skylark

Frances Hodgsen Burnett: Little Lord Fauntleroy, Sara Crewe (later expanded into A Little Princess)

Mark Twain: Tom Sawyer Abroad
Little Lord Fauntleroy, incidentally, was St. Nicholas' first runaway "hit." First serialized in the magazine beginning in November 1885, Frances Burnett's gentlemanly but spunky Cedric Errol became a household name and countless late Victorian boys were relegated, most against their will, into dark velvet suits with white lace collars, like the beloved "Ceddie." The story was not only later published in novel form, but was adopted for the stage (by Burnett officially after a plagarized version was produced). Because of little Cedric's long curly "lovelocks" (a standard well-to-do young boy's fashion at the time), a little girl, Elsie Leslie Lyde, was chosen for the role onstage. St. Nicholas followed Lyde's stage career as Little Lord Fauntleroy and later printed the letters the little girl shared with her admirer, none else but Mark Twain of Tom Sawyer and Huckleberry Finn fame.
Some serials were popular in their day, but have now been forgotten. Many of the earlier tales had recurring themes: young orphans or poor children left to make their own way in the world, and how they turned loss into triumph, mostly with hard work, sometimes with luck. The hero of Mrs. C. V. Jamison's Toinette's Philip (set in New Orleans) is a young boy left with no family but his old "mammy," who takes care of the boy until her death, when Philip is then adopted by a rich family—but his troubles do not end there. J.G. Trowbridge's His One Fault follows the adventures of a young man who cannot break himself of forgetting things, and who therefore loses his uncle's best horse due to his omission; he sets out among strangers determined to get the animal back and prove his worth and mettle. Kate Douglas Wiggin's lesser known heroine, Pauline Oliver, in Polly Oliver's Problem, chafes against spending the rest of her life helping her mother run a boarding house, then must take charge when the Widow Oliver suffers poor health and must move to a healthier clime. Other stories were just for fun, like the exploits of Captain Harold Hammond's Pinkey Perkins or his counterpart, Wells' Betty McGuire of "the Betty stories."
Other serials took place in exotic locations. Stoddard's The White Cave, for example, follows the adventures of a wealthy family lost in the Australian bush, facing danger from Aborigine tribes and thieves, abetted by a mysterious cave-dwelling man. In The Young Wizard of Morocco, an American boy, and his Arab companion find adventure and mystery in the Middle East. Samuel Scoville wrote a recurring number of tales about two older Boy Scouts who become involved in expeditions to the wilds of every known region on earth to look for rare gems coveted by "Jim Donigan, the lumber king."
Later serials included "boys only" sports tales, most written by the prolific and popular Ralph Henry Barbour ("The Crimson Sweater," "New Boy at Hilltop," "Tom, Dick, and Harriet," "The Turner Twins"), and the girls' mystery stories, most penned by the equally prolific Augusta Huiell Seaman ("The Boarded-Up House," "The Girl Next Door," "The Secret of Tate's Beach"), whose books were still being reprinted by Scholastic in the mid-1960s. Beth Gilchrist and Margaret Johnson ("Dorothea's Double") also wrote girls' series. In "The Golden Eagle" (1917) two young visitors to a seaside town are embroiled in the competition over a sailing race, while 1925's "Fortune Farm" chronicles the adventures of six children "making do" on a run-down farm.

Beyond the Magazine / Its Later Years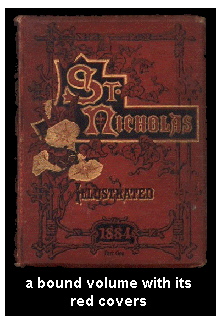 When you finished reading your issue of St. Nicholas, you could always give it away to another family member or a neighbor, toss it out, or keep it to read again. However, there was a delightful spin on the final option: you could send six issues back to the publisher, and, for a small fee, they would remove the advertisements from the back and front of each issue and return them to you bound as a book. Many older people remember St. Nicholas solely in that manner, as a plainly bound buckram library volume, or in leather with corner embellishments. The most recalled binding, however, was the friendly red covers with their black and gold markings, the title St. Nicholas spelled out against a pattern of golden morning glories, with the year and volume embossed at the bottom.
Beside the bound volumes of the magazine itself, there were also specialty publications. Stories about a certain subject would be reprinted in a volume and sold as …Retold from St. Nicholas. Some of the titles were Stories of Our Navy Retold from St. Nicholas, Sea Stories…, Our Dog Friends…, Indian Stories…, Stories of Little Girls and Their Dolls…, Outdoor Stories…, Tales of Adventure…, Southern Stories…, Civil War Stories…, Stories of Royal Children…, Cat Stories…, Prairie Tales…, etc., plus a book called The St. Nicholas Book of Plays and Operettas.
Perhaps the most well-known compilation was St. Nicholas Songs, a volume of the musical selections occasionally printed in the magazine. These ranged from common patriotic songs or nursery rhymes to original songs written for a particular issue or occasion. This songbook figures in one of the most poignant scenes in Ruth Sawyer's Newbery-winning juvenile novel Roller Skates, as ten-year-old Lucinda Wyman sings one of the volume's favorite songs to her seriously ill friend "Trinket."
Many readers consider that St. Nicholas started its decline after Mary Mapes Dodge's death in 1905, but others will tell you that it had a long golden age that only began to disintegrate as the 1920s progressed into the next decade. Certainly during the First World War, St. Nicholas was popular enough to do yeoman work rallying youngsters to help the war effort. During 1918 almost every story in the magazine had something to do with what was going on overseas. Wartime camp stories emphasized keeping fit for the sake of older brothers and cousins overseas, plays were written that encouraged patriotic behavior, and serial tales mentioned the war. "The Letter Box" overflowed with children talking about what they were doing on the homefront; one affecting missive told of a little seven-year-old boy who was confined to his bed after a bout with polio, but who insisted his mother teach him to knit so he could make stocking for "the boys over there" so he wouldn't feel like a "slacker."
And what child could resist the appeal of the magnificent illustrations that urged them to support the war effort, like this beautiful Liberty Loan poster?
But by the 1920s, the tone of the magazine had definitely changed: although the stories were still generally of good quality, they seemed written more for older readers; most of the serials now involved teens solving mysteries ala Nancy Drew or concerning high school and college sports teams or "school spirit." Indeed, there were many more sports stories in total (the June 1927 issue, for example, is almost completely devoted to sports). The lost but plucky orphans who discover they are heirs to great fortunes or who make their way in the world due to hard work disappeared to give way to modern heroes who drove ambulances in "the Great War" (as it was called then), worked with wireless, flew airplanes, went to war themselves (stories of young pilots were very popular for many months). Daring young women became nurse-volunteers in France and did fundraising on the homefront. Certainly St. Nicholas changed to serve a changing audience, but detractors say that eventually the stories became peruile, or sensationalistic, especially after the Century Company ceased publication in May 1930 began and St. Nicholas was sold to Scholastic Publishing (today now famous for the cheap paperback books they once sold at schools and more famous for the "Harry Potter" novels). The sale must have been particularly abrupt, because the June and July 1930 issues of the magazine followed the layout the magazine had carried for the Century Company since 1927. The August 1930 issue clearly shows the changeover, including a slightly larger font, different font headers for everything from the "St. Nicholas" logo to the article titles, and simpler illustrations. Gradually the page count was reduced so that, instead of a stapled issue with a squared spine, you received an issue that was saddle stapled like today's "TV Guide" or "People." While there were still science, nature, and history pieces, the fiction, especially for girls, seemed to be of the light and fluffy type, and the boys' stories were chiefly devoted to sports or Western adventures. "Under Cover of Apologies," which appeared in the April 1932 issue and was then reprinted in The Second St. Nicholas Anthology, seems to be a prime example of boys' "fluff," a preposterous story about a spoiled young boy caught up with spies in the 1920s era.
The magazine experienced a further decline as the Depression worsened. Issues contained fewer pages, more advertisements dotted the remaining ones, and the trend for "fluff" was even decried by St. Nicholas' readers themselves in a 1935 issue. Stories with complicated plots and characters that had once covered four to six pages were reduced to two or three pages of simplified fare about cookie-cutter white children, there were skimpy articles about decorating your bedroom, and even a page of fashions for girls (emphasizing name brands!) was included. Up to October 1939, one of the best features of the magazine, the full-color paintings on most covers, still remained. This abruptly ceased with the next, November, issue. The November 1939 through February 1940 covers were limited color cartoony-type illustrations, and apparently these final four issues were aimed at elementary school children. It was St. Nicholas' death knell.
In February of 1940, St. Nicholas ceased publication. Having survived one World War and the Great Depression, it departed just before another World War appeared on the scene. It would have been interesting to see how this conflict appeared in its pages. Ironically, in this age when television is blamed for poor test scores and even poorer reading skills, some consider the demise of St. Nicholas to be attributed to radio programs! (It is noted that there was apparently a brief revival of the magazine in 1943, but these final embers were quickly stubbed out after four issues.)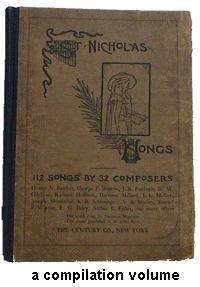 Still, St. Nicholas was not forgotten by its readers. In 1948, Henry Steele Commanger put together an anthology of what he and his family—and friends who insisted on input!—thought were the best stories from the magazine's run. In 1950, The Second St. Nicholas Anthology appeared (both published by Random House, whose CEO, Bennett Cerf, had been a St. Nicholas League Member years earlier), and Commanger put together a third volume, Treasury of Best-Loved Stories, Poems, Games and Riddles from St. Nicholas Magazine, in 1978 for Greenwich House. In addition, Burton Frye compiled A St. Nicholas Anthology: the Early Years for Meredith House in 1969. Living again for modern readers were William Dean Howell's mischievous "Christmas Every Day," Louisa May Alcott's "An Old-Fashioned Thanksgiving," Frank Stockton's amusing fairy tales, Kipling's fanciful "The Potted Princess," Theodore Roosevelt's "Buffalo Hunting," and the Western adventure story "Danny and the 'Major,'" among others.

How Does It Look Today?

For sheer story-telling power, St. Nicholas is still a marvel to read today. Informative nonfiction, adventuresome stories, and sometimes extraordinary illustrations fill its pages. As a portrait of late 19th and early 20th century life it cannot be rivaled, especially in the portraits of foreign nations before our age of homogenization.
But as St. Nicholas is a mirror of the positive attitudes of the past, so it is also a mirror of the negative ones as well. It is difficult for modern readers to reconcile the vow of St. Nicholas League members, especially the passage that reads "…for protection of the oppressed, whether human beings, dumb animals, or birds…[h]e who enjoys life and liberty, knowing what they mean, cannot willingly see others deprived of them," and then read of attitudes toward nationalities and races as portrayed during its era. People of other countries are considered "queer" or "barbaric" if they do not choose to follow Western ways. Tribes of Aborigines are considered "savages," and of course 19th century accounts of Native Americans espouse similar opinions. Louisa May Alcott's "Onawandah" is one of the few noble Indians, because her hero chooses to give up his life for his white friends. Most Mexicans are generally portrayed as lazy, Italians as indolent music lovers, Asians as either quaintly industrious or untrustworthy and "inscrutable."
(Certainly world events would color this sort of narrow-minded thought in St. Nicholas as much as it did in newspapers and other magazines of the time. During the Spanish-American War, Cubans and Spanish in general were thought of as treacherous. During the First World War, the serious, industrious Germans portrayed positively only 20 years earlier in literature became "Huns" and "Boches" capable of butchering babies and other unspeakable atrocities, according to the propaganda of the time, in every publication and even in the newest media, movies.)
As in most magazines and books of the age, St. Nicholas treated the African-American mainly as little more than a buffoon. He is an admirable, intelligent character only if, like Phillip's faithful Mammy Toinette, he remains loyal to people with white skins. Joel Chandler Harris' Daddy Jake, eager to escape slavery, returns to the captivity of the plantation for love of his young white charges—and of course is rewarded for being a loyal slave. (Heroic, faithful black women seem to appear more often than heroic black men, however.) A 1893 portrait of the city of Baltimore describes it as an ideal city for several reasons, including that its black citizens are "cooperative." In a story I found intensely embarrassing, "A Little Contraband," reprinted in Commanger's St. Nicholas Anthology, a small African-American child is "adopted" by a Union regiment during the Civil War. The troopers seem to treat the boy more like a pet monkey or dog than a human being; he finally dies heroically, of course protecting his white benefactor. It occasionally becomes disconcerting to turn page after page of intelligently written fiction and nonfiction and beautiful illustrations only to find a comic drawing with stereotypical dialect and cariactures of black people, or to find children awarded gold and silver badges for dialect stories perpetuating the same stereotypes.
In fact, St. Nicholas and its companions were at one time so negative toward people of color that the NAACP published a similar magazine called The Brownies Book between 1920 and 1921. Its stories and nonfiction were geared toward all children, but concentrated on African-American children. Unfortunately this well-done magazine only lasted for 24 issues.
To some people these attitudes might turn them forever away from reading something like St. Nicholas. That attitude seems unfair, however, a censorship of past beliefs that, while not right or fair, are true to the era that spawned them. Ignoring how people behaved in the past—and knowing they were not "monsters" because of it (as portrayed in too many "politically corrected" television series and movies)—cheapens our history. Worse, it trivializes the ordeals of the people who suffered, not usually due to overt bigotry, but to the more difficult kind to overcome, the subtle teachings passed down from generation to generation. It is better to consider them honestly, to see them as they really were (most times learned by rote, without thought), and realize how we have changed for the better and can continue to improve.

St. Nicholas Online

Early Issues of St. Nicholas At Project Gutenberg (with Illustrations)

November 1877

December 1877

January 1878

February 1878

March 1878

April 1878

May 1878

June 1878

July 1878

September 1878

October 1878

May 1886

June 1886

July 1886

September 1886
---
Bound volumes of St. Nicholas at Google Books

St. Nicholas, November 1873 through October 1874 (the entire first year)

St. Nicholas, November 1874 through October 1875 (the entire second year)

St. Nicholas, November 1876 through October 1877 (the entire fourth year)

St. Nicholas, May 1878 through October 1878

St. Nicholas, November 1878 through October 1879 (the entire sixth year)

St. Nicholas, November 1879 through April 1880

St. Nicholas, May 1880 through October 1880

St. Nicholas, November 1880 through April 1881

St. Nicholas, May 1881 through October 1881

St. Nicholas, November 1881 through April 1882

St. Nicholas, November 1882 through April 1883

St. Nicholas, November 1883 through April 1884

St. Nicholas, May 1884 through October 1884

St. Nicholas, November 1884 through April 1885

St. Nicholas, November 1885 through April 1886

St. Nicholas, November 1886 through April 1887

St. Nicholas, November 1887 through April 1888

St. Nicholas, May through October 1888

St. Nicholas, November 1889 through April 1890

St. Nicholas, May 1892 through October 1892

St. Nicholas, November 1892 through April 1893

St. Nicholas, November 1893 through April 1894

St. Nicholas, May 1894 through October 1894

St. Nicholas, November 1894 through April 1895

St. Nicholas, May through October 1896

St. Nicholas, November 1896 through April 1897 (judging by the first few pages, this was not well copied; later pages may be better)

St. Nicholas, November 1897 through April 1898

St. Nicholas, May through October 1898

St. Nicholas, November 1898 through April 1899

St. Nicholas, May through October 1899

St. Nicholas, November 1899 through April 1900

St. Nicholas, May through October 1900

St. Nicholas, November 1900 through April 1901

St. Nicholas, May through October 1901

St. Nicholas, May through October 1902

St. Nicholas, November 1902 through April 1903

St. Nicholas, May through October 1903

St. Nicholas, November 1903 through April 1904

St. Nicholas, May through October 1904

St. Nicholas, November 1904 through April 1905

St. Nicholas, May through October 1905

St. Nicholas, November 1905 through April 1906

St. Nicholas, May through October 1906

St. Nicholas, November 1906 through April 1907

St. Nicholas, May through October 1907

St. Nicholas, November 1907 through April 1908

St. Nicholas, May through October 1908

St. Nicholas, November 1908 through April 1909

St. Nicholas, May through October 1909

St. Nicholas, November 1909 through April 1910

St. Nicholas, May through October 1910

St. Nicholas, November 1910 through April 1911

St. Nicholas, May through October 1911

St. Nicholas, November 1911 through April 1912

St. Nicholas, May through October 1912

St. Nicholas, November 1912 through April 1913

St. Nicholas, May through October 1913

St. Nicholas, November 1913 through April 1914

St. Nicholas, November 1914 through April 1915 (this contains all the vintage advertisements)

St. Nicholas, November 1915 through April 1916

St. Nicholas, May through October 1916

St. Nicholas, November 1916 through April 1917

St. Nicholas, May through October 1917

St. Nicholas, November 1917 through April 1918

St. Nicholas, May through October 1918

St. Nicholas, May through October 1919

St. Nicholas, November 1919 through April 1920 (this has at least one color front cover and some vintage ads)

St. Nicholas, May through October 1920

St. Nicholas, May 1921 through October 1921

St. Nicholas, November 1921 through April 1922

St. Nicholas, May through October 1922

St. Nicholas, November 1922 through October 1923
---
Compilation Volumes of St. Nicholas at Google Books and Project Gutenberg

St. Nicholas Songs, 1885

Handbook of the St. Nicholas Agassiz Association

St. Nicholas Book of Plays and Operettas, 1900

Cat Stories, Retold from St. Nicholas, 1904

Indian Stories, Retold from St. Nicholas, 1904

Colonial Stories, Retold from St. Nicholas, 1905

Fairy Stories, Retold from St. Nicholas, 1906

Our Holidays; Their Meaning and Spirit, Retold from St. Nicholas, 1906

Southern Stories, Retold from St. Nicholas, 1907

Stories of Chivalry, Retold from St. Nicholas, 1909

Stories of the Great Lakes, Retold from St. Nicholas, 1909

Patriotism and the Flag, Retold from St. Nicholas, 1918

Ellis Parker Butler's "Pigs is Pigs", originally published in St. Nicholas

Winter Fun, originally serialized in St. Nicholas
---
University of Florida's Collection of Digitized Issues of St. Nicholas (1873-1896)

University of Florida Collection
---
Hathi Trust's Collection of Digitized Issues of St. Nicholas

Hathi Trust Collection from the first issue through 1924, mostly complete, but issues must be read through an awkward reader.
---
Mary E. Wilkins Freeman Stories Originally Published in St. Nicholas

"Ann Lizy's Patchwork", St. Nicholas, January 1888

"Ann Mary; Her Two Thanksgivings", St. Nicholas, November 1888

"The Little Persian Princess", St. Nicholas, August 1889

"Where the Christmas-Tree Grew", St. Nicholas, November 1889

"Mehitable Lamb", St. Nicholas, February 1891

"The Dickey Boy", St. Nicholas, November 1891 (an affecting story about a 19th century orphan)
---
Jack London Stories Originally Published in St. Nicholas

"To Repel Boarders", St. Nicholas, June 1902

"The Cruise of the 'Dazzler'", St. Nicholas, July 1902

"In Yeddo Bay", St. Nicholas, February 1903
More Jack London stories, including those written for Youth's Companion.
---
Samuel Scoville "Boy Scout" Novels

Boy Scouts of the North; or, The Blue Pearl (serialized in St. Nicholas, November 1919-October 1920, with illustrations)

The Inca Emerald (serialized in St. Nicholas, January-December 1922, with illustrations)

The Red Diamond (serialized in St. Nicholas, November 1924-October 1925, with illustrations)
Here is the original, introductory novel, Boy Scouts in the Wilderness, which was serialized in Boy's Life in 1919
These Scoville sagas are linked from Pat Pfieger's great page on 19th century children's literature. Please check it out—link below.
---
Augusta Huiell Seaman Girls' Mystery Novels

The Boarded-Up House (serialized in St. Nicholas, with illustrations), published in book form 1915

The Sapphire Signet (serialized in St. Nicholas, with illustrations), published in book form 1916

The Girl Next Door (serialized in St. Nicholas, with illustrations), published in book form 1917

Three Sides of Paradise Green (serialized in St. Nicholas, with illustrations), published in book form 1918

The Slipper Point Mystery (serialized in St. Nicholas, with illustrations), published in book form 1921

The Mystery at Number Six (serialized in St. Nicholas, with illustrations), published in book form 1922

The Crimson Patch (serialized in St. Nicholas, with illustrations), published in book form 1930
---
Other Stories/Articles as Published in St. Nicholas

William Rose Benet poem from St. Nicholas and a little about the man and the magazine

Rachel Carson's first published story in The St. Nicholas League.

Two of the three children's stories by Susan Fenimore Cooper on this page were originally published in St. Nicholas

"The Gingerbread Boy" from May 1875 issue of St. Nicholas

"Perserverance" a Sarah Orne Jewett poem first appearing in St. Nicholas

Young Readers section of this Sarah Orne Jewett website features several stories that were published in St. Nicholas, including Betty Leicester's Christmas

"I've Got a Dog" poem by Ethel M. Kelley from St. Nicholas

Christy Mathewson story originally published in St. Nicholas

"About Saint Nicholas", an eponymous article from St. Nicholas

St. Nicholas Links

Online Items About St. Nicholas Itself
»  "The Attic" blog: "Cradle of American Lit" article about St. Nicholas
»  Armstrong Sperry illustrations, including two from St. Nicholas
»  "American Heritage" Magazine's " The Magazine That Taught Faulkner, Fitzgerald, And Millay How To Write"
»  An Avi novel inspired by a St. Nicholas story
»  Bubble Books ads in St. Nicholas:
These were books that came with small phonograph records that read the contents of the book, from September 1920, October 1920, December 1920, November 1921, December 1921, November 1922, and December 1922
»  Donation of a collection of St. Nicholas magazine to the MLC Research Centre & Gallery
»  Fan puzzle from St. Nicholas, May 1883
»  The History of the Book blog entry about St. Nicholas
»  "Humanities" Spring 2017 article on St. Nicholas
»  Joe Wheeler's blog entries on St. Nicholas.
»  PDF article about the LaFlesch sisters' letters in St. Nicholas
»  ""Live to learn and learn to live": The St. Nicholas League and the Vocation of Childhood" (PDF document)
»  "Living in an Omnibus," Louisa May Alcott's story for Merry's Museum from October 1867, later reworked for St. Nicholas in October 1874
»  "Natural History in St. Nicholas chapter in Wild Things: Children's Literature and Ecoculture
»  NPR 2013 story on St. Nicholas
»  Article on collecting which talks about Palmer Cox's Brownies collectables (here's an ad for the Kodak "Brownie" camera, which was named after the characters)
»  Short article from the 2015 "Paris Review" remembers St. Nicholas
»  "A 'Revolutionary' War?: Girls Writing Girls in America's St. Nicholas Magazine chapter from Children's Literature and Culture of the First World War
»  A rubber stamp hobbyist finds a pertinent project in St. Nicholas
»  PDF of thesis "St. Nicholas Magazine: A Portable Art Museum" by Mary Frances Zawadzki which earned her a Ph.D.
»  St. Nicholas images Pinterest page
»  St. Nicholas covers and images from a Google search
»  The Tar Baby and the Tomahawk: Race and Ethnic Images in American Children's Literature, 1880-1939, links to St. Nicholas stories about Native Americans and other ethnicities, illustrating the passing on of false values through children's literature (check out their links to The Brownies Book, a magazine published in the 1920s to counteract this misinformation).
---
Online Items About People Related to/Appearing in St. Nicholas
»  Arthur Keller, St. Nicholas illustrator
»  Augusta Huiell Seaman: "Nancy Drew for Smart Kids"--a superb piece by Christine Volk
»  Augusta Huiell Seaman Talked about on the Blog "Series Books for Girls," noting its Nancy Drew plot elements years before Nancy was created
»  Article about Vivian Burnett, the prototype for Cedric Errol in Little Lord Fauntleroy, first published as a serial story in St. Nicholas (here's how to identify the year of an old photo by looking at the "Fauntleroy" clothing of the children posing)
»  Comic Humor in St. Nicholas Magazine
»  Frank Stockton's The Griffin and the Minor Canon read aloud (or you can read it yourself here)
»  Mildred Wirt Benson, first published in St. Nicholas, later the first "Carolyn Keene" of Nancy Drew fame
»  Noah Brooks, with quotations from his St. Nicholas offerings
»  Norman Rockwell began as a St. Nicholas illustrator
»  The Gnomes and Fairies site has several pages on Palmer Cox and the Brownies
»  Animationarchive.org blog entry which discusses Reginald Birch and his work for St. Nicholas.
»  Richard Foster Davis, age 8 years, 1896, a photo sent to me by Pam Graham (check out a closeup of what Richard is reading)
»  Walter B. Gibson, creator of "The Shadow," who submitted puzzles to "The Riddle Box"
---
Related Links

 Cornell University's Archive of Scribner's Magazine (Note: the pages of the magazines are saved as graphics, so they will take some time to load. However, if you're interested in seeing what the parents of St. Nicholas readers were reading themselves, it will be worth your while.)

 Cornell University's Archive of the Century Magazine (Note: the pages of the magazines are saved as graphics, so they will take some time to load. However, if you're interested in seeing what the parents of St. Nicholas readers were reading themselves, it will be worth your while.)

 Six months of The Century, May 1899 through October 1899, on Google Books

 A few other issues of The Century

 Six months of Wide Awake, June through December of 1888, Volume AA, on Google Books

 An entire year of Our Young Folks for 1871 and another for 1873, on Google Books
»  An overview of Youth's Companion issues online
»  Another overview of Youth's Companion, the first mention of the Pledge of Allegiance
»  A nine-page essay on The Brownies' Book, which includes photographs and illustrations from the magazine
»  Pat Pfieger's page on nineteenth-century children's reading includes examples from Parley's Magazine and Merry's Museum (This is a great site with much of interest to read about the magazines of the era. Highly recommended.)

St. Nicholas Books

In Print:
♦ The National Review Treasury of Classic Children's Literature: over 40 stories, almost all from St. Nicholas
♦ The National Review Treasury of Classic Children's Literature, Volume II: over 40 stories, almost all from St. Nicholas
♦ McFarland Publications' St. Nicholas and Mary Mapes Dodge: The Legacy of a Magazine Editor 1873-1905: essays about various aspects of the magazine
Out of Print, found on Bookfinder.com, Amazon.com Marketplace, E-Bay, Half.com:
♦ The St. Nicholas Anthology, 1948, Random House, edited by Henry Steele Commanger
♦ The Second St. Nicholas Anthology, 1950, Random House, edited by Henry Steele Commanger
♦ A St. Nicholas Anthology: the Early Years, 1969, Meredith House, edited by Burton C. Frye
♦ A Treasury of Best-Loved Stories, Poems, Games and Riddles from St. Nicholas Magazine,, 1978, Greenwich House, edited by Henry Steele Commanger


Bibliography for This Web Page Includes:
A Critical History of Children's Literature, Cornelia Meigs, Anne Thaxter Eaton (author of the section from which the St. Nicholas information was derived), Elizabeth Nesbitt, Ruth Hill Viguers, Revised Edition, 1969, MacMillan Company.
Rachel Carson: Witness to Nature, Linda Lear (also linked here in a nicer format)
A St. Nicholas Anthology: The Early Years, edited by Burton Frye, introduction by Dr. Richard L. Darling, 1969, Meredith Press
Many thanks to Suzanne Price, who passed on the title of the Meigs book and
encouraged me to do this web page.
Disclaimer: I am not anywhere near a children's literature scholar or historian.
I constructed this page for the sheer love of St. Nicholas and its contents.
Please excuse any mistakes.