AUTHOR AND ILLUSTRATOR
I put this page together because I have been reading Kate Seredy since I found The Good Master in my elementary school library in the mid-1960s, and was continually frustrated by having to go to half-a-dozen sites to find info on her. Here I have collected all the data I have found in one place. There was previously a tribute page to her online, but it no longer exists.


 




The biography below has been distilled from entries from Encyclopedia.com, Wikipedia.com, and Bookology Magazine.com, and is not my original writing, except for small connecting passages, and some quotations. The quotation about her family came from 100 Years of Children's Book Week Posters by Leonard S. Marcus. The penultimate paragraph analyzing Seredy's books is verbatim from Encyclopedia.com. I wished to concatinate all these entries because there is so little information about Seredy on the internet. The black-and-white photo was on several of her book jackets. The self-portrait in crayon—which I find delightful—was found on Bookology.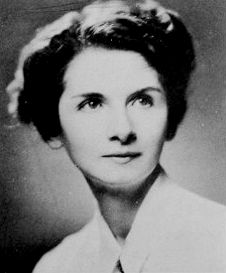 Kate Seredy (pronounced sher-edy) was born November 10, 1899 in Budapest, Hungary. She was the only child of Louis Peter Seredy, a well-known Hungarian teacher and storyteller, and his wife, Anna Ireny. She attended the Academy of Art in Budapest for six years, receiving an art teacher's diploma. During World War I, she went to Paris and served for two years as a nurse in frontline hospitals, an experience which left her ill in body and spirit, and caused her to become a confirmed pacifist. After the war she illustrated several books in Hungary.
Seredy once recalled, "I had the usual number of grandparents, but in my case the combination was unusual because one was French, one German, one Slovakian, and one Turkish...I grew up in an atmosphere charged with highly individual opinions. My collective family had in turn decided that I was to be a teacher, a nurse, a dress designer, plain wife complete with children, a thorn in the side of any government in power...,a painter. I have at one time or another dabbled in each career, adding occasionally a few ideas of my own."
In 1922 Seredy moved from Budapest to the United States; originally it was simply to visit. She studied the English language "by the trial and error method" while working as an illustrator and artist to support herself (she designed book covers and greeting cards, illustrated magazines and sheet music, and also painted lampshades and designed fashions). She illustrated 50 to 60 textbooks as well. From 1933 to 1934 Seredy owned a children's bookstore. Though the store wasn't a success, she later credited it with helping her to understand children and what made a good children's book. In 1935 Seredy met May Massee, the children's editor at Viking Press. Massee didn't have any illustration work for Seredy, but encouraged her to write about her childhood in Hungary, promising to publish the book for Christmas. After several months of work, Seredy submitted what would become The Good Master, which she also illustrated, a bulky manuscript, written in longhand in a recently-learned language, which was accepted immediately. This, her most popular work, rose out of her memories of her Hungarian childhood and the stories her father told her. When Seredy was nine years old, she accompanied her father on a trip to the countryside, where they studied peasant art and life. The Good Master is the humorous, episodic story of wild, spoiled, motherless Cousin Kate from Budapest (Seredy herself), who goes to live with her uncle, Marton Nagy, called "the Good Master" for his wise and gentle ways, his wife, and son Jancsi, on their horse ranch on the Hungarian plains. Kate gets caught up in the pleasures and responsibilities of farm life, and she calms down and develops a sounder set of values. The Good Master was named a Newbery Honor book in 1935, a runner-up to Caddie Woodlawn, which Seredy illustrated for Simon and Schuster. In addition she designed the jacket and endpapers for Young Walter Scott, which was another Newbery runner-up that year.
In 1936 Seredy wrote and illustrated Listening, set in rural New Jersey. That same year she purchased, "Listening Hill", a one-hundred acre farm near Montgomery, New York. It was here that she wrote The White Stag, an historical retelling of legends of Huns settling Hungary. Seredy learned these stories from her father when she was a child. It is a stirring retelling of Hungarian folklore, as the twins, Magyar and Hunor, Hunor's son Bendeguz, and his son Attila, lead their tribes from their ancient home in Asia steadily westward until they reach their promised land along the Danube. This spirited and rhythmical account of wars and hardships, the drama of the conquest heightened by bold, sweeping drawings by the author, was awarded the John Newbery Medal in 1938. In 1959 it received the Lewis Carroll Shelf Award.
The Singing Tree appeared in 1939. A sequel to The Good Master, it tells of the effects of World War I on Kate and all of her family. When Uncle Marton and her own father, Sandor, must join the army, Jansci is left in charge of the ranch, which becomes a refuge for family, neighbors, and war orphans. The book shows the terrible effects of war upon ordinary people, especially those who are forced to leave their lands and homes to fight. The Singing Tree was also named a Newbery Honor book. Following this book Seredy continued to write and illustrate her own books as well as those of other writers. In 1945 she illustrated The Christmas Anna Angel by Ruth Sawyer. When the Caldecott Honor list was created in 1971, Seredy was retroactively named an Honor winner for those illustrations.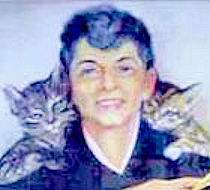 Eventually Seredy had twelve children's books published, but she considered herself an illustrator before an author. She had a unique style, primarily based on drawing, and considered her books "an excuse for making pictures". Her last book, Lazy Tinka, was dedicated to her long-time editor, May Massee.
While such values as love of family, respect for authority and the aged, pleasure in hard work, and faith in God reappear throughout Seredy's writings, overriding themes involve confidence in the ultimate goodness of human beings and a deep affection for the soil. The greatest evil is war, a senseless business which hurts most the simple people who are never responsible for bringing it about. Descriptive passages are highly poetic and are particularly rich in visual imagery. Seredy writes with an artist's eye, drawing details from nature and folk life and art. Although didacticism and sentimentality sometimes get in the way of the narrative, the best of Seredy's writing has auditory and visual qualities which draw readers in and carry them along.
Kate Seredy died March 7, 1975, in Middletown, New York, at the age of 75. Her papers and illustrations are held at the May Massee Collection at Emporia State University, Emporia, Kansas, and the University of Oregon Library.
Of course no sooner did I say I couldn't find material about Kate Seredy on the internet than I found some academic articles about her!
"On Listening Hill," Blanche Jennings Thompson, "The Elementary English Review," Vol. 15, No. 6 (OCTOBER 1938), pp. 217-220, 1 (PDF format)
(The author of the article visits Kate Seredy at her home!)
"Kate Seredy's World," Lois R. Markey, "Elementary English," Vol. 29, No. 8 (DECEMBER, 1952), pp. 451-457 (PDF format)
"Kate Seredy: A Person Worth Knowing," Aileen M. Kassen, "Elementary English," Vol. 45, No. 3 (MARCH, 1968), pp. 303-315 (PDF format)


Comments on the books are my own.


Kate Seredy wrote and illustrated:
The Good Master, Viking Press, 1935
Kate Nagy is sent from her widowed father's home in Budapest to her uncle's large farm on the Hungarian plains in the hopes that country living will tame her wild ways. She learns to ride horses and has many adventures with her slightly older cousin Jansci. Still a great fun book today, although one may need to review the chapter on gypsies [the Romany] before reading as attitudes have changed; would make a great teaching point about how old prejudices. The Good Master has been translated into numerous languages since its publication; including the Asian edition at left.


Listening, Viking, 1936
A sweet story about a little girl named Gail who spends the summer with cousins in an old house in New York; as the season progresses, her uncle tells her about the history of the home, going back all the way to the Dutch settlement of the area. I love historical tales but wonder if this one would be relevant to children today.


The White Stag, Viking, 1937
Seredy won a Newbery Award for this retelling of the founding of Hungary by the Hun and the Magyar tribes. Not one of my personal favorites, but a sweeping modern folktale, and the artwork is breathtaking. If you loved the stories Kate was told in The Good Master, you will enjoy this.


The Singing Tree, Viking, 1939
Seredy's sequel to The Good Master, published as Europe was on the brink of war yet again, about the effect the First World War has on the Nagy family and their friends, including the Jewish storekeeper Moses Mandelbaum and his wife. Much more serious than the first book, but told with love. The title refers to a touching story told over Christmas, and the book is a very strong plea for peace. I did not realize until I was an adult that had I been an American child of this era, Kate and Jansci would have been my "enemies." So much food for thought within a wonderful story.


A Tree for Peter, Viking, 1941
A sweet parable about a little boy who spends hours alone in "Shantytown," a slum area, while his mother works, until he is befriended by a hobo and then a police officer. It talks about how the power of cooperation and optimism can improve ones' outlook on life, others, and social conditions.


The Open Gate, Viking, 1943
I confess: my favorite of the Seredy books. I found this in the college library in the children's book stacks: the story of the Preston family, who head out on vacation one fine June morning in 1941 and by the end of the night are the owners of a run-down farm due to the machinations of their grandmother. These "city slickers" soon learn to love country living and bond with their neighbors, a crusty elderly couple who are raising their grandson (an art prodigy) and a recent immigrant couple from Slovakia. When December 7 arrives, the blow is nearly as devastating as if you are there. It's not her best, is old-fashioned, jingoistic in parts but egalitarian in most others, and I love it to bits.


The Chestry Oak, Viking, 1948
Probably Seredy's most beautiful novel. Young Prince Michael of Hungary has led a strict but loving regime since he was a baby and heir to the Chestry title, respecting and loving his titled father, and adoring his nurse, who he calls "Nana." Then World War II's ugly tentacles invade his beloved valley and his father is branded a traitor. This one has it all: love, respect, a gorgeous horse named Midnight that will precipitate a crisis, and the healing power of friendship and devotion. I still cry at the end.


Gypsy, Viking, 1951
Lovely picture book about a cat from her kittenhood through adulthood. My first thought after reading it: Gladys Taber would have loved this book!


Philomena, Viking, 1955
This is one of two Seredy books I have been unable to borrow online or find in a library; I can buy a reprint if I want. The description, from Kirkus Reviews, is as follows: "A story from Kate Seredy's own background takes Czechoslovakian Philomena from her country home to seek her fortune in Prague after her Grandmother dies. With Babushka's warm advice in her heart, Philomena sets out with confidence but the first thing she must do requires more than that- she must find her Aunt Liska whose married name Philomena does not know. How her fortunes fail at first as Philomena works as a servant girl, and how they become bright at last makes a sympathetic story. The author's drawings, pinpointing important scenes, are in her characteristic meticulously detailed outlines."


The Tenement Tree, Viking, 1959
The other Seredy book I have not read; not sure why it has never been reprinted, as those who have read it seem to love it. Wish someone would digitize it!




A Brand New Uncle, Viking, 1961
A slight tale of adult rebellion for kids: Bard Smith vowed his children wouldn't have the bleak childhood he did working at his father's store, with the result that most of the Smith children, and their wives, and all thirteen grandchildren still live in the family home and depend on Mama and Papa for everything. So the elder Smiths "run away from home" to a small cottage in the country and claim they are happy—until Bard encounters a small boy named Butch trying to rescue some kittens. If ever the danger of "helicopter parents"—about fifty years before the term was coined—was evident, it's in this book. Difficult to figure out who this was written for, however, as it's never come off as a children's book to me.


Lazy Tinka, Viking, 1962
Colorful folk tale about a lazy little girl who runs away to the "carefree" forest after being expected to do chores. The animals she encounters teach her that everyone needs to work for life to work out properly. Seredy must have delighted in drawing the colorful costumes and the forest animals.

Among others, Kate Seredy illustrated:
A Dog Named Penny, Clyde Robert Bulla
An Ear For Uncle Emil, E.R. Gaggin
Caddie Woodlawn: A Frontier Story, Carol Ryrie Brink
Finnegan II: His Nine Lives, Carolyn Sherwin Bailey
Happy Days, Dean F. Smiley
Mary Montgomery, Rebel, Helen Fern Daringer
Pilgrim Kate, Helen Fern Daringer
The Christmas Anna Angel, Ruth Sawyer
The Gunniwolf and Other Merry Tales, Wilhelmina Harper
The Selfish Giant And Other Stories, Wilhelmina Harper
Friendly Stories, Arthur I. Gates and Miriam Blanton Huber
The Pathfinder: Readings from Modern Literature, Lawton B. Evans
God our Father, Virgil George Michel and Basil Augustine Stegmann
The Prince Commands, Andre Norton (Norton's debut)
Common Sense for Mothers: Bringing up Your Children from Babyhood to Adolescence, Estelle Mulqueen
Young Walter Scott, Elizabeth Janet Gray
Winterbound, Margery Bianco
Smiling Hill Farm, Miriam Evangeline Mason
The Wonderful Year, Nancy Barnes
Little Vic, Doris Gates
Adopted Jane, Helen Fern Daringer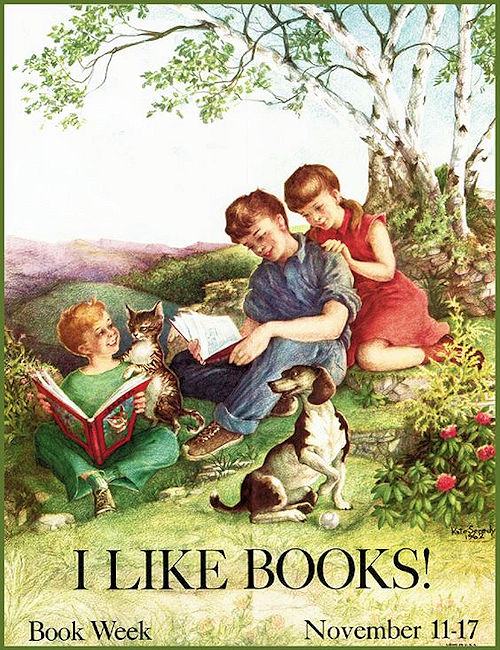 Kate Seredy's gorgeous poster for Book Week, 1962.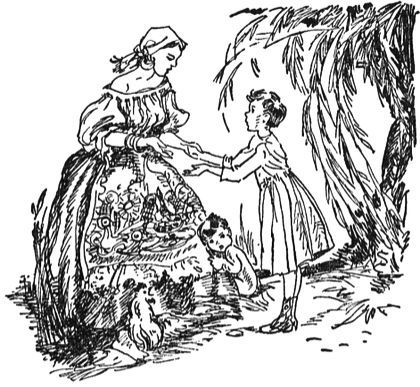 From Adopted Jane.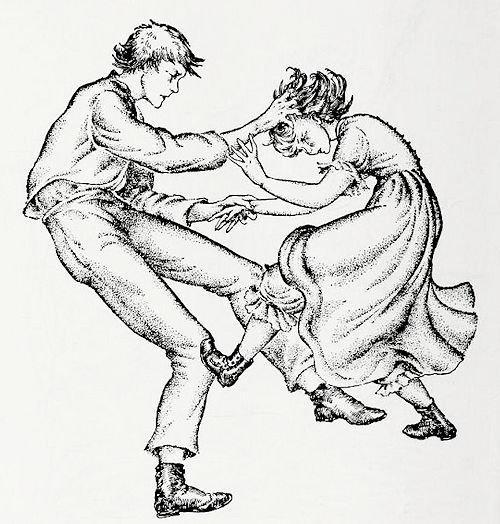 From Carol Ryrie Brink's classic Caddie Woodlawn:
The schoolroom fight between Obediah and Caddie.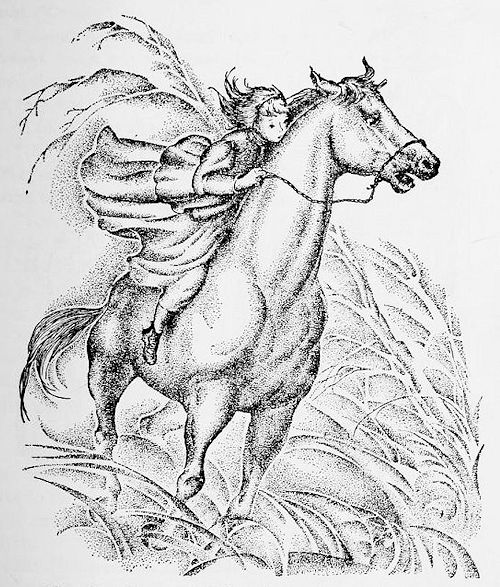 From Carol Ryrie Brink's classic Caddie Woodlawn:
Caddie rides to save her Native American friends.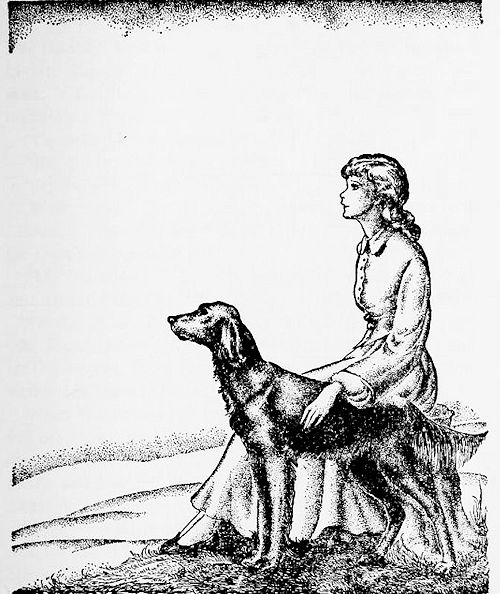 From Carol Ryrie Brink's classic Caddie Woodlawn:
Many changes have come in a year for Caddie.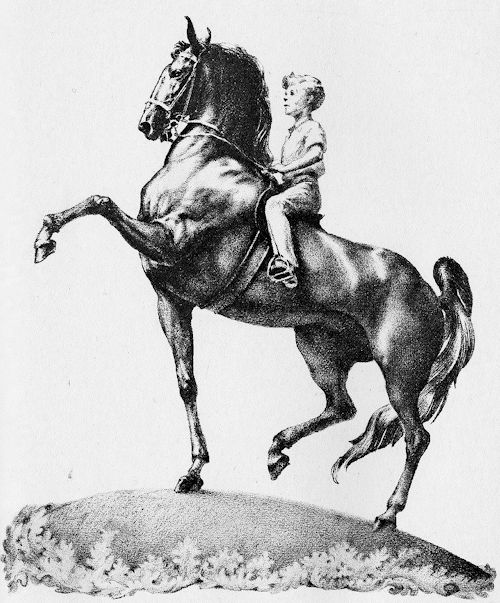 From the magnificent ending to The Chestry Oak: Michael on "Midnight" one final time.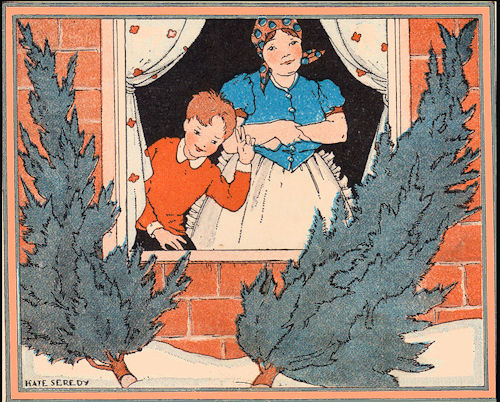 From Friendly Stories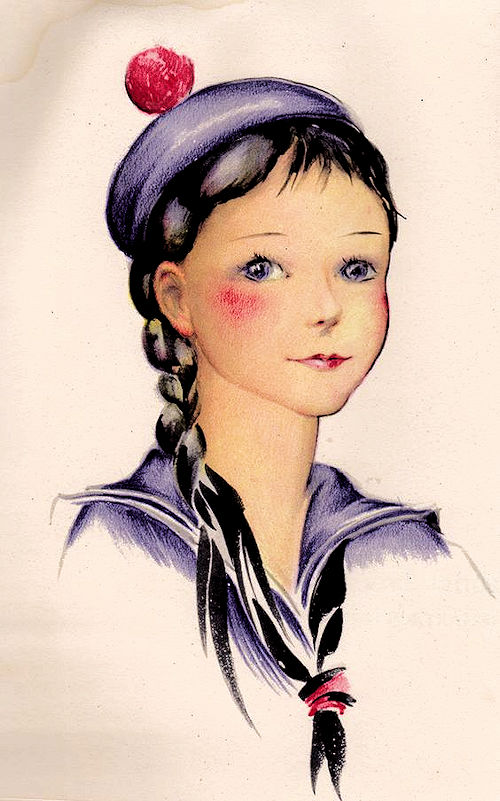 The crayon portrait of Kate from the hardback copy of The Good Master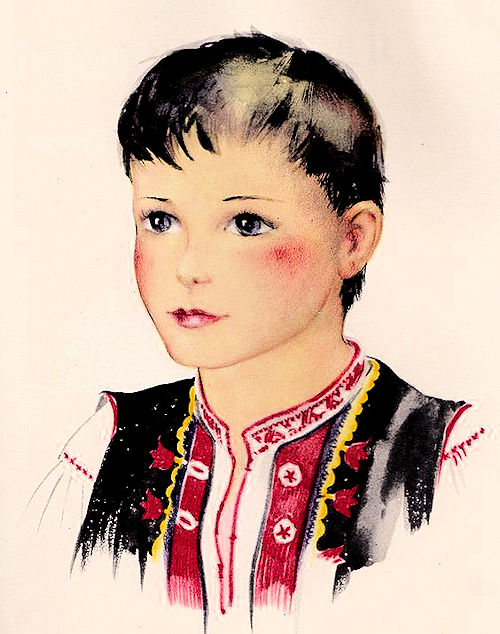 The crayon portrait of Jancsi from the hardback copy of The Good Master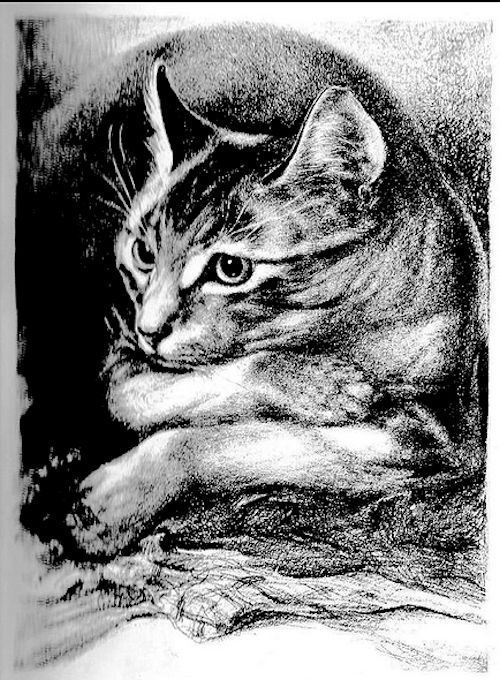 From Gypsy.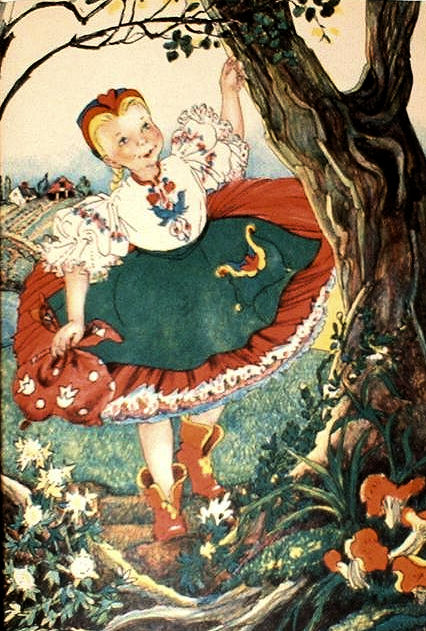 From Lazy Tinka.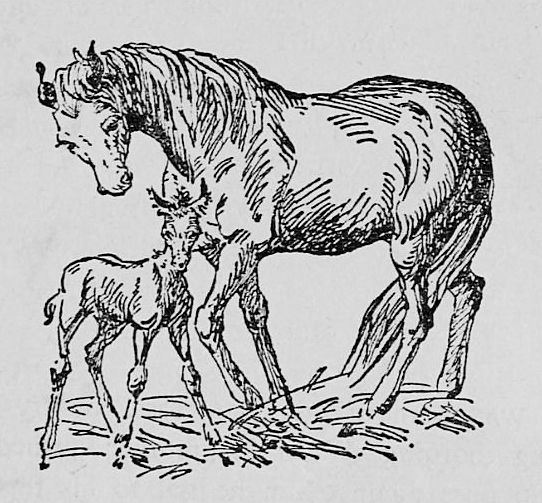 From Doris Gates' Little Vic, the story of a racehorse.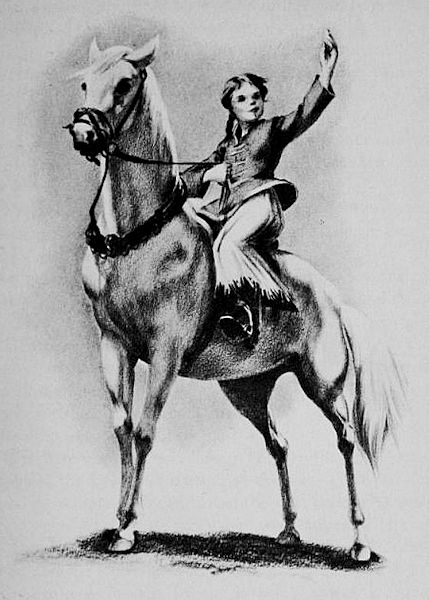 Kate and her horse "Milky" from The Singing Tree.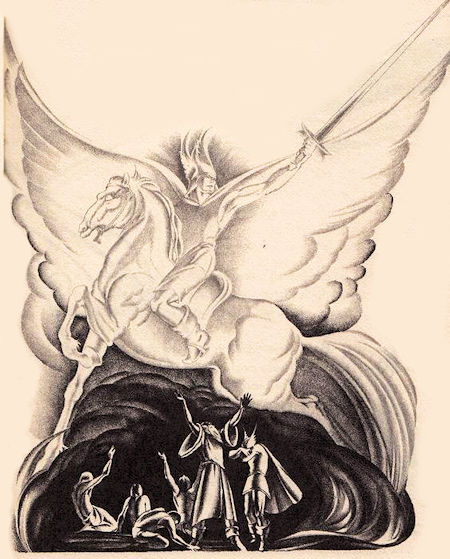 From the Newbery-award winning The White Stag.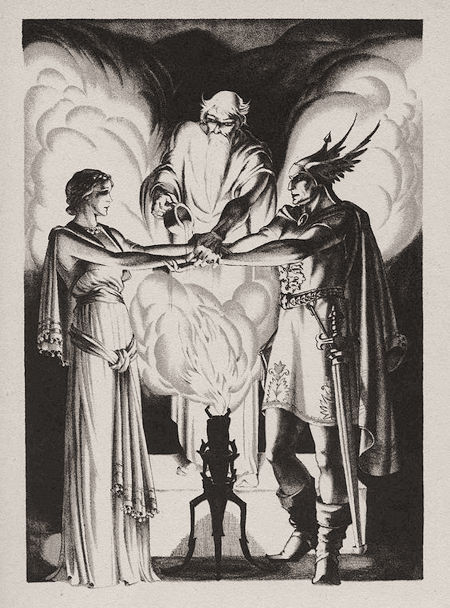 Another from The White Stag.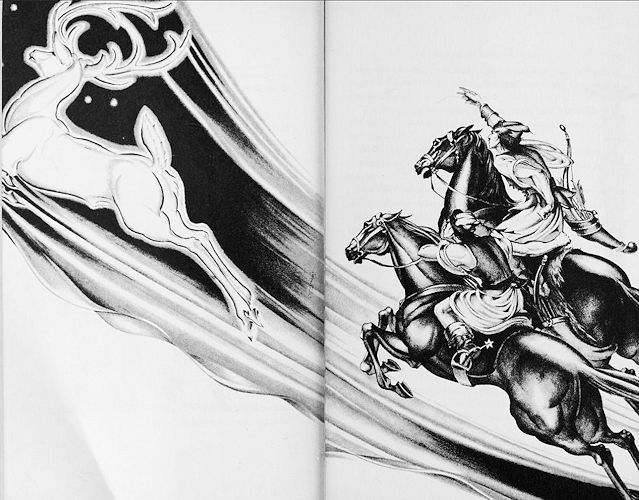 Two-page illustration from The White Stag.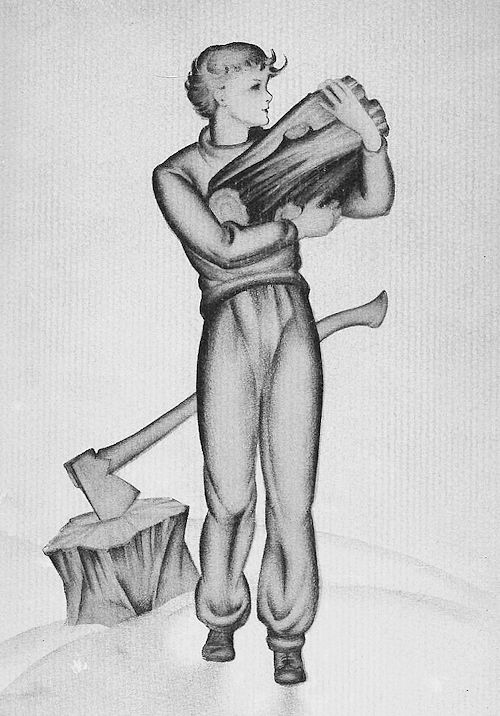 The undefatiguable Garry from Winterbound.

» Kidlit History post about Kate Seredy
» Redeemed Reader: guest post about Kate Seredy
» Children's War Books: post about The Singing Tree
» Wikiwand post about The Good Master
» Wikiwand post about The Singing Tree
» Read-at-Home-Mom review of The Open Gate (she has reviews of other Seredy books as well)
This page is intended as a tribute to the memory and writings of Kate Seredy. All book illustrations on this page are the intellectual property of Kate Seredy, and no copyright infringement is intended; I simply want to show off her gorgeous artwork and talk about her wonderful books.
---