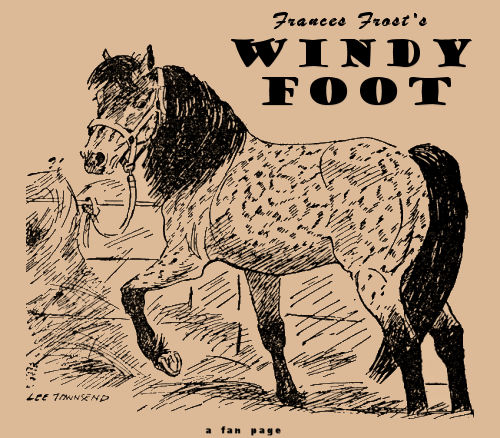 Once a staple of school libraries, especially in the New England states, the rural world of the Windy Foot books almost now seems like an alien place.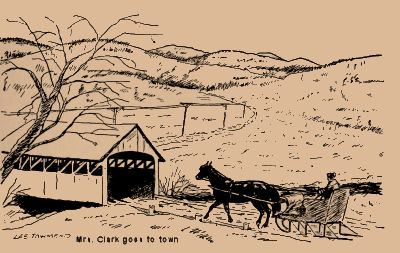 The Clarks live on a small family farm in an initially unspecified Northern state. (While the maple sugar theme of the third novel might earmark the location as definitively New England, maple sugar is harvested in other states such as Michigan and also in Canada. However, author Frances Frost lived in Vermont, so that state would be a good guess as to location. Additionally, there is a Crooked River Valley in Vermont.) It is only in the fourth and final book that the location is definitively given as Vermont. They live as many other small farm families post-World War II—the first book was written in 1947—with modern conveniences as electricity, telephone, and radio, but also a wood-burning cookstove, fireplaces and stoves for heat, kerosene lanterns for outside chores, horses to do the plowing and harvesting, the one family vehicle, a pickup truck, reserved for family trips into town and for hauling (Mary Clark takes a buggy when she goes into town on her own). The children attend a small graded school off the square in town, which is a long enough distance from the farm for Toby and Betsy to use Windy Foot and a buggy to get to school, have no videogames or other electronic gadgets, and spend much of their time helping out on the farm. While they have their small quarrels and pull their small pranks, as a whole they are happy. Indeed, it almost sounds appealing, doing hard work and being rewarded with good, fresh, mostly farm-grown food, followed by a nice night around the fire, popping corn, singing songs, and listening to the radio together, rather than everyone retreating to a corner with shrieking electronics. The children do not lack for fun: they swim, attend parties with friends, hike, snowshoe, and slide and coast. There are also sleigh rides, horseback rides, fairs, parades, holiday celebrations, carol sings around the community Christmas tree, and sugaring-off "frolics" that sound like tremendous fun.
The nearby town where the children attend school is never named. (Two towns are mentioned in the path of the flood in Maple Sugar for Windy Foot, Benson and Webster; one of these may be the name of the town; the farm is located in Webster County.) There is a grammar school—which Toby and Betsy attend—as well as a high school, a big general store owned by the Michaelis family, the Perkins feed and grain store, an old livery stable where Windy Foot stays during school hours, run by Mr. Bronson, the railroad station, Friedman's drugstore with its ice cream counter, a ladies' wear store, a needlework shop, and a barber shop, all gathered around a village square that includes a bandstand for summer concerts. Everyone knows each other and helps each other, especially in times of need, and there are few animosities.
Whether you think the community sounds like an old-fashioned ideal or whether you lived through the time and say it did exist, the world of Windy Foot is always a nice one to visit.
Who's Who at the Clark Farm—and Beyond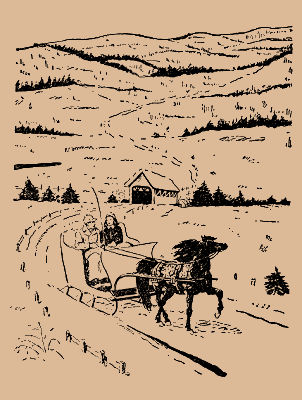 Tobias "Toby" Clark
Age twelve as the series opens, he is the eldest of the Clark children, tall with dark hair. His middle name is never mentioned, although a good guess might be "James," after his father. Although he loves life on the farm, his dream is to become an artist. (He originally plans to draw only horses, but later thinks he may branch out into landscapes.) He also loves horses and astronomy and is a good student at school, although arithmetic isn't his strong suit. His birthday is in late July, and his best friend at school is Dick Norton.
Although Toby's eponymous Shetland pony, Windy Foot, takes center stage in the titles, it is Toby and his life on the farm around which the stories revolve. While Windy Foot is an intelligent animal, he's no equine Lassie. Windy Foot is a fast mover, gentle for riding and driving, and his favorite treat is strawberry ice cream (followed closely by homemade maple mousse). He was given to Toby on his twelfth birthday.
Elizabeth Martha "Betsy" Clark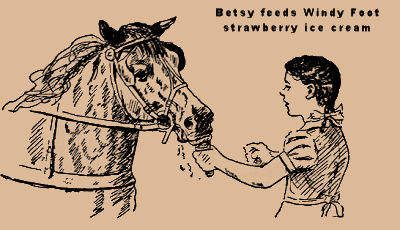 She is eight years old when the series begins. Although she loves dolls, she's also not afraid of farm chores and loves to go snowshoeing and on nutting or berrying expeditions. In the second book of the series, she becomes the proud possessor of a bull calf she names Kris after Kris Kringle. In the third book her dad gives all the children their own maple tree, and on Easter Sunday, Toby officially gives Windy Foot to her and Johnny, since he is "growing out of" his beloved pony.
John Nathaniel "Johnny" Clark
The youngest of the Clark children, Johnny is five when the series starts, your average rambunctious small boy. Not yet old enough for school, Johnny stays home and makes up songs with often intricate rhymes (the wilder the rhyme, the more tired he is). Despite his age, Johnny can help out with simple farm chores and, indeed, hates being left out of them. He develops a crush on Tish Burnham from the moment he meets her. (In Sleigh Bells for Windy Foot, Johnny's middle name is indicated as being Christopher, after his grandfather, but it's Nathaniel thereafter.)
James Clark
Referred to as "Jack" and "John" in the first book, Jim Clark owns a small, multi-use farm in the northwest corner of Webster County, on the banks of the Crooked River, raising crops, a herd of dairy cattle, several pigs, and a flock of chickens, plus overseeing the "sugarbush" in the spring. Toby doesn't find out until one Christmas that his dad also used to be an artist who painted in oils and also did woodcarving. A landscape hanging in the Clark home of the Crooked Valley that Toby especially admires is the work of his father. He is a hard-working farmer and father, devoted to his land and family, and glad his children are healthy and enjoy country life.
Mary Clark
Although like the typical 40s mom, Mary Clark spends most of her time cooking and cleaning after her large brood and their menagerie, she is well-read on world affairs. The children think their mom, with her green eyes and short curly brown hair, is the prettiest and smartest mother in the world. She can be counted on not to fuss too much if Toby must defend himself from bullies and trusts her children to keep safe on their various expeditions.
Cliff
Cliff's last name is never mentioned, but he might as well have the last name Clark. The family farmhand as long as the children can remember, he is treated as one of the family. Tall and lean, with blue eyes, Cliff can do a little of everything, from the everyday chores to perfectly boiling maple sugar to predicting the weather. Sometimes he acts as if the children's attention bothers him, but he's secretly pleased at their affection. Cliff celebrates his birthday in November.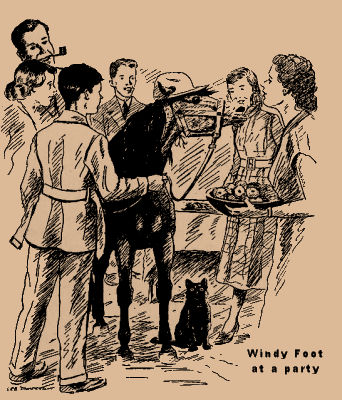 Letitia "Tish" Burnham
Tish's mom died when she was three; she's been raised by her dad, Jerry, and their top stableman Billy Blue. She knows Jerry still misses her mother and tries to make up for it. Tish is a rather shy girl who likes shooting and riding as well as the more feminine pursuits of the day, including collecting dolls, and she blossoms in the friendship of Toby and the rest of the Clark family. She has dark hair and blue eyes, and owns a black pony named Jigs. When she grows up she wants to be a doctor. Her birthday is March 17.
Jerry Burnham
Tish's father raises champion horses in Hillsboro, in another part of the state. He still misses his late wife, but adores his daughter and is glad she's become friends with the Clarks—he and Toby's dad are old friends. He is proud of his horses, which include the trotters Foxy Lady, a chestnut, and the roan Appleseed, and the prize palomino racehorse Golden Hind. Jerry is tall and large-shouldered, with black curly hair and dark eyes.
William "Billy" Blue
This tall, grey-haired older man has been the Burnhams' horse trainer for years and has watched Tish grow up. At the county fair he helps Toby protect Windy Foot and teaches him a little self-protection in the bargain. He likes Toby from the start and deliberately manipulates events so that Toby meets Tish, knowing that friendship with the Clarks will be good for the lonely girl. Although we only see Billy in the first novel and very slightly at the end of the third, he is always mentioned.
The Clark "Menagerie"
The Clarks have a young collie named Ribs and a black cat named Poke (she gives birth to three kittens later in the series), as well as a driving horse, Jake; an old mare named Serena; and a Belgian team of mares, Tillie and Tossie. (Jake is drowned during the big flood that hits Crooked River Valley.) They have various pairs of pigs, but these change with every book (in Sleigh Bells for Windy Foot, the pair are Florian and Florinda), and a herd of 40 milk cows; sadly only one, Georgette, survives after the floods, along with her calf, Kris.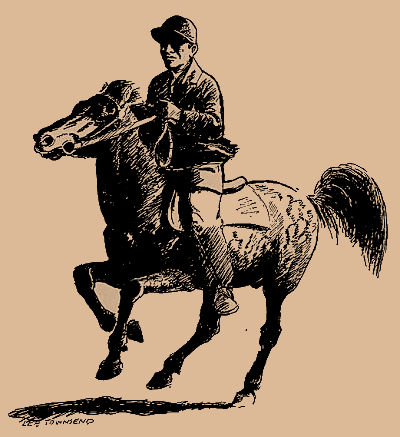 Windy Foot at the County Fair  ©1947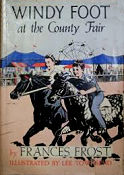 On Toby Clark's twelfth birthday, his father gives him a dapple-grey pony, which Toby names "Windy Foot." (His mother's gift is a saddle and Cliff's present a bridle.) During the remainder of the summer, Toby trains Windy Foot for the annual pony race at the Webster County Fair. During the week of the fair, the family makes camp at the edge of the fairgrounds, and Toby is not on the midway fifteen minutes before he gets into a fight with Lem Strout, a boy who tries to strike Windy Foot. He's helped by an older man who turns out to be Billy Blue, horse trainer for the Burnham family, who offers to keep Windy Foot in their stable to keep him safe from any revenge from Lem, who will be one of Toby's competitors in the pony race. So Toby won't have to pay to go in the grandstand, Billy, who likes Toby immediately, points out a "dime hole" in the fence—with an ulterior motive: there Toby meets Letitia Burnham, "Tish," with whom he soon becomes fast friends and is dismayed to find out is also competing in the pony race. (A third boy, Jimmy Slater, and his pinto Whistle Stop will also be tough competition.) Together Toby and Tish cheer on her father's horses, scheme together to shoot enough targets to buy Betsy a doll "with real hair," and thwart Lem's plot to get Windy Foot out of the race. In the end, Toby realizes that no matter who wins the pony race, he and Tish will be fast friends forever.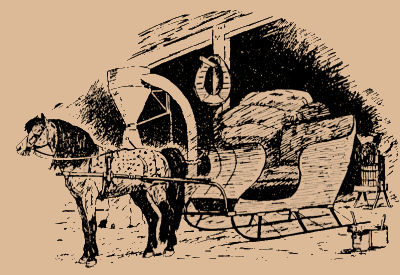 Sleigh Bells for Windy Foot  ©1948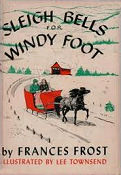 School Christmas vacation begins with helping deliver the community Christmas tree to the town square and a fresh snowfall for the Clark children, who are excited because Tish Burnham and her father will be spending the holiday with them. Mrs. Clark plans her Christmas menu while the children decide to gather greenery for house decorations and make last minute plans for presents for the family. Toby then gets the bright idea to cut down the runners of an old, small sleigh to fit Windy Foot so he'll be able to take Tish out sleighing. The conveyance is finished in time for Tish and Jerry to arrive on Christmas Eve. Toby thinks the big anxiety of Christmas is over when his mail-order presents arrive at the last minute, but he doesn't count on having to guard the farm against a marauding bear while his Dad, Cliff, and Jerry go out hunting the animal. Once the danger is past, the family can enjoy Christmas Eve caroling, the opening of presents and Christmas dinner, skiing and playing in the snow, even eating ice cream sundaes,not to mention the rest of the celebration—until Tish's skiing expedition goes awry.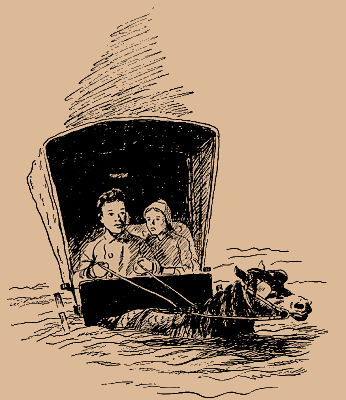 Maple Sugar for Windy Foot  ©1950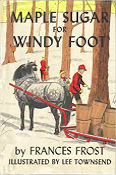 Just before St. Patrick's Day, the "sugar snow" begins to fall and the Clark family is galvanized into action. Even Windy Foot and little Johnny are recruited to help work the sugarbush and transport the sweet sap to the sugarhouse, which is presided over by Cliff. Sugaring-off time also finds Toby and his father trying to placate the restless farmhand, who is experiencing his usual spring wanderlust. But of course faithful Cliff remains at the Clarks—to properly preside over the making of the maple syrup, so he says—and the syrup and sugar is processed to culminate in a big St. Patrick's Day sugaring-off party at the Clarks, to which Toby and Betsy invite special school friends and their teachers. The children also look forward to visiting the Burnhams for a few days at Easter—until the rapidly rising river and too many days of rain turn spring planting time into a time of anxiety and loss for the Clarks and the other families of the Crooked River Valley.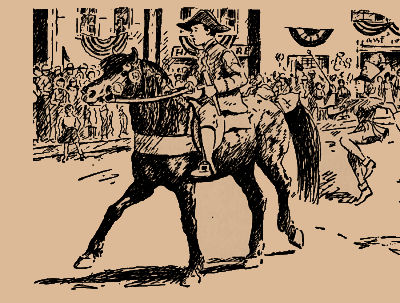 Fireworks for Windy Foot  ©1956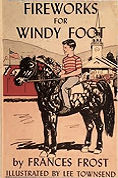 The Clark family is still recovering from the spring floods when school lets out for the summer. Toby and Betsy come home with big news: they will all be participating in the town's Fourth of July parade, Toby as the flag bearer in a replica of "Washington Crossing the Delaware," Betsy with her calf Kris on the feed and grain store float, and Johnny in the lead dressed as Yankee Doodle and "riding on a pony"—Windy Foot, of course! Although Toby officially gave Windy Foot to Betsy and Johnny after the Burnhams brought him a colt, a son of Golden Hind, after the flood, Toby still loves the dapple-gray the best. While excited about the parade plans, Toby has a problem with the eighth grade boy chosen to play George Washington. Pietro is Italian, his parents not yet naturalized citizens, and, Toby insists, he isn't a "real American" like the other kids in his class. Jim Clark finds his attitude disturbing and tells Toby he can't be a flag bearer in the parade until he learns what it really means to be an American. In the weeks before the parade, Toby spends time with Pietro and "walks in his moccasins," and is finally an enthusiastic guest at the naturalization ceremony where Pietro's parents, as well as Pietro, become citizens. In the meantime, the Clarks attend summer band concerts, do the haying, buy more cows to replace the herd they lost, welcome Tish as a visitor for the Fourth of July festivities, and cope when Betsy breaks her arm during a berry-picking expedition.
If you sign up for free on Open Library, you can borrow and read e-book versions of Sleigh Bells for Windy Foot, Maple Sugar for Windy Foot, and Fireworks for Windy Foot.
Do You Remember Windy?

Windy Foot Trivia
What nautical term he learned from Cliff did Toby use when he was annoyed or startled about something?
What was Toby's three word phrase and its single word shortened form to make Windy Foot go faster? (The single word is part of the phrase.)
What is Toby's favorite flavor of ice cream? His second favorite?
Tish's favorite ice cream flavor is the same as Toby's, but what's her second favorite?
What was the first prize that Jim Clark—and Tillie and Tossie—won in the stoneboat contest?
What did Johnny call the stoneboat?
What does Betsy name the doll Tish wins for her at the target-shooting booth?
What does Toby buy for Windy Foot for Christmas?
What is Betsy's original choice for a name for Georgette's calf, before she learns it's a bull calf?
What country was Mr. Michaelis originally from?